Last Updated on September 25, 2023
Using your RV toilet daily can lead to some pretty substantial build-up. Icky stuff starts to grow, and if not cleaned regularly, your toilet bowl can become a real health concern.
That's why it's crucial to have the best RV toilet bowl cleaner on hand at all times. Your toilet will always remain fresh and clean with the help of this cleaner, which quickly and easily breaks down all the gunk, stains, and odor-causing bacteria.
Using inferior cleaners can adversely affect your toilet bowl and not effectively clean it. To avoid such complications, checking out the reviews of the products will be the best way to get an idea of which RV toilet bowl cleaner is suitable for your needs.
Why Does the RV Toilet Stink?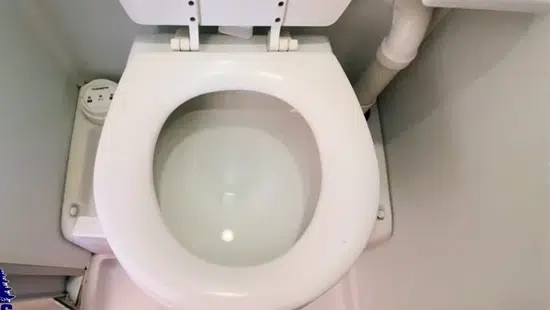 There are several reasons why an RV toilet might start to stink. A dirty toilet is the most obvious cause, and cleaning the bowl and seat with a disinfectant can solve the problem.
If the stench persists, it could be due to a buildup of waste in the black tank. This can happen if the tank isn't emptied enough or if solid waste isn't properly broken down before it's flushed.
In either case, manually flushing the tank with a hose can help to remove the offending material. If there's still a bad odor, there may be a clogged black tank vent pipe.
This pipe allows air to flow into the tank; without it, waste can start to build up and produce a foul smell. A bad toilet flange or bowl seal can also cause an RV toilet to stink.
These seals are designed to keep waste from leaks, but if they become damaged or worn out, they can allow odors to escape. Replacing them is usually a fairly easy repair for any RV owner.
When Does the Water Cause Stains in an RV Toilet Bowl?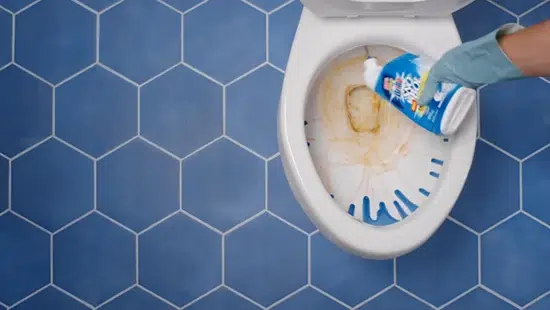 There are a few scenarios where water in your RV toilet bowl can cause stains. If the water in your tank is particularly hard, it can leave mineral deposits on the bowl.
The presence of iron in the water can also cause staining. Brown or red stains usually indicate the presence of iron, while minerals usually cause white or light-colored stains. If you notice any of these types of stains, you can try cleaning the bowl with a toilet bowl cleaner explicitly designed to remove them.
Sometimes, the stains may be too stubborn to budge, and you may need to have the bowl professionally cleaned. Using a high-quality RV toilet cleaning solution can significantly reduce the likelihood of these stains forming in the first place.
How Do RV Toilet Bowl Cleaners Work?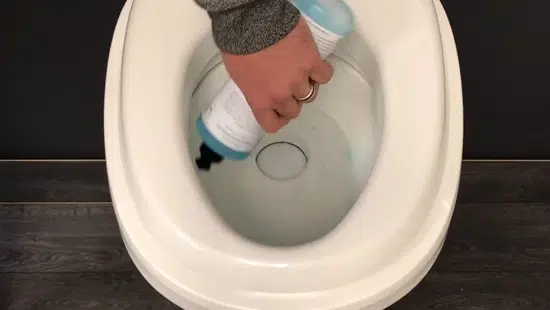 RV toilet bowl cleaners are specially formulated to clean and disinfect the holding tanks in RVs. The ingredients in these cleaners are designed to break down waste and remove odors.
Mixture of Enzymes and Surfactants
Most RV toilet bowl cleaners contain a mixture of enzymes and surfactants. Enzymes break down the organic material in waste, while surfactants help to remove the waste easily. Enzymes help to lubricate seals on toilet bowls, making them less likely to develop leaks.
Beneficial Bacteria
Beneficial bacteria are microorganisms that are essential for the proper functioning of an ecosystem. In the case of RV toilet bowl cleaners, beneficial bacteria help to decompose holding tank waste, reducing the amount of odor-causing ammonia and other harmful gasses. These bacteria help to convert tank waste into valuable fertilizers that can be used to improve the health of your lawn or garden.
Tank-Enhancing Microbes
Tank-enhancing microbes are similar to beneficial bacteria in that they also help to decompose all the waste in the holding tank. These microbes also help to increase the overall efficiency of your RV's septic system, making it less likely that you will experience clogs or backups. Tank-enhancing microbes can help to reduce the amount of time required to break down solid waste in your holding tanks.
Softening Agents
Softening agents help to prevent hard water stains and mineral deposits from building up on your toilet bowl. These agents do not contain any harsh chemicals, making them safe for both you and the environment. Softening agents help to keep your toilet bowl looking clean and new for longer periods of time.
Bleach or Other Disinfectants
Many RV toilet bowl cleaners also contain bleach or other disinfectants to kill bacteria. To use an RV toilet bowl cleaner, simply add 4 ounces of the liquid cleaner to the tank and let it work for 5 to 10 minutes.
After the cleaning cycle is complete, flush the tank with freshwater to remove any residual cleaner. For best results, use an RV toilet bowl cleaner on a regular basis to keep your holding tanks clean and odor-free.
Five Best RV Toilet Bowl Cleaner Review
Before you make a purchase of an RV toilet bowl cleaner, it is essential to check out product reviews to ensure that you get a product that will work well for you.
Regarding RV toilet bowl cleaners, there are many different brands and formulas to choose from. Checking out reviews can help you narrow down your choices and find a cleaner that will suit your needs.
Reviews can also provide valuable information about a product's performance, including how well it cleans and how long it lasts.
With so much at stake, taking the time to read reviews before choosing a toilet bowl cleaner is well worth the effort. We have listed five RV toilet bowl cleaners reviews below that we think you will find helpful.
1. Lysol Toilet Bowl Cleaner Gel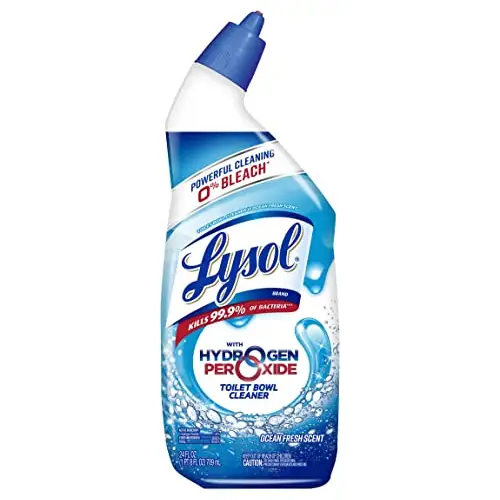 Highlighted Features:
It contains hydrogen peroxide for deep cleaning
Kills 99.9% of bathroom bacteria
Safe for use with hard water
It comes in a convenient 24 oz bottle
Angled bottle for easy reach into tight spaces
Removing odors and leaving a fresh scent
Product Specifications:
This gel-type toilet bowl cleaner from Lysol does not contain bleach, so it is gentle enough for use on RV toilet bowls. Hydrogen peroxide is used in this product to deep clean and remove stains and limescale. You can carry and store this product easily because it is packaged in a convenient 24-ounce bottle.
Why You May Consider Using This Product:
The powerful formula is capable of killing 99.9% of the bacteria in bathrooms, so you can feel confident that your toilet is clean and sanitary. Your toilet bowl will also remain shiny and new with the help of this product.
It is safe with hard water and will not deteriorate your toilet's surface. To use this unique RV toilet bowl cleaner, you simply need to squirt it into the toilet bowl and let it do its work.
Besides eliminating odors, it leaves your bathroom smelling fresh. With the angled bottle, you can easily reach tight spaces for thorough cleaning. Using Lysol toilet bowl cleaner gel regularly will help you maintain a clean and fresh bathroom all the time.
Pros:
♥ Powerful cleaning formula
♥ Effectively remove stains and limescale
♥ Safe for use with hard water
♥ Angled bottle for easy reach into tight spaces
♥ Removing odors and leaving a fresh scent
Cons:
⊗ It may smell bit strong for some people
⊗ Without proper scrubbing, it may leaves a ring
---
2. Vacplus Automatic Toilet Bowl Cleaner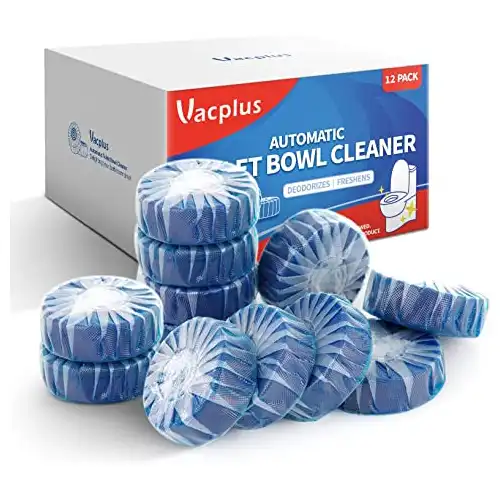 Highlighted Features:
It does not require manual scrubbing
12 tablets in a pack for long-lasting use
5-7 day duration per tablet, or up to 20 flushes per day
Fast-acting cleaning agent that dissolves contaminants
Safe to use and does not harm the toilet bowl
Reduces toilet odors and rings
Product Specifications:
You will receive 12 tablets in this pack, which release a powerful cleaning agent that dissolves contaminants, leaving your toilet bowl sparkling clean. Each tablet will last for 5-7 days, or approximately 20 flushes per day. This means that your toilet will always be cleaned whenever it is used.
Why You May Consider Using This Product:
There is no need for manual scrubbing; simply hang it in the bowl for at least 10 minutes to dissolve, and the water will turn blue. Upon flashing the toilet, your RV toilet will appear shiny.
If you are sensitive to smells, this product works well for you because once it is inserted into the bowl, it does not leave a strong smell. It also reduces toilet odors and rings, ensuring that your bathroom will always be clean and odor-free.
There is no need to worry about hard stains since it removes them quickly and easily. The Vacplus automatic toilet bowl cleaner tablets are safe to use and do not adversely affect the bowl. You can rest assured that your toilet will remain in good condition over the long term.
Pros:
♥ It does not require manual scrubbing
♥ Fast-acting cleaning agent that dissolves contaminants
♥ Safe to use and does not harm the toilet bowl
♥ Cleans the toilet tank, water pipe, and other parts
♥ Provide fresh lemon scent
Cons:
⊗ Taking longer to eliminate calcium buildup
⊗ After a period of time, the blue color may fade
---
3. Iron Out Toilet Bowl Cleaner for Rust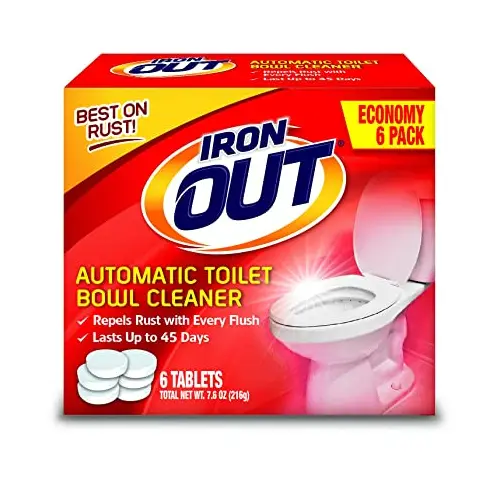 Highlighted Features:
It contains six tablets in one package
Each tablet lasts up to 45 days
Quickly dissolves and removes rust build-up and red stains
Safe to use and will not interfere with components
Cleans septic plumbing system
Automatically dispensing every time you flush
Product Specifications:
It is a tablet form of toilet bowl cleaner. This package contains six tablets, sufficient to clean your toilet bowl for a long time. With each tablet lasting for up to 45 days, you won't have to worry about constantly replacing toilet bowl cleaners.
Why You May Consider Using This Product:
The Iron Out toilet bowl cleaner is specially formulated to remove stains and rust caused by high iron levels in toilet bowls.
This cleaning solution quickly dissolves and removes any unsightly stains, restoring the toilet to its original state. Each time you flush, it automatically dispenses, so you can always access it when needed.
Simply pour the cleaner over the toilet bowl and allow it to sit for a few minutes so that it can work its magic. There is no need to scrub your toilet bowl. Besides cleaning your RV toilet, this powerful cleaner also cleans your plumbing and septic system, making it a great choice for maintaining a healthy bathroom.
This product is also non-toxic and will not adversely affect the components. Based on its overall effectiveness, you may wish to consider selecting this toilet bowl cleaner for rust.
Pros:
♥ Quickly dissolves and removes rust build-up and red stains
♥ Safe to use and will not interfere with components
♥ Cleans septic plumbing system
♥ Contains six tablets, enough to clean your toilet bowl
♥ Removes stains and rust caused by high iron levels in toilet bowls
♥ Quickly dissolves and removes any unsightly stains
♥ No need to scrub the toilet bowl
Cons:
⊗ The tablets have no scent
⊗ Some users have found that the tablet leaves a foamy sludge
---
4. Scrubbing Bubbles Drop In Toilet Cleaners
Highlighted Features:
Offers five discs of drop-in toilet cleaner
Each disc keeps toilet bowls clean and stain-free for up to four weeks
Works continuously with every flush
It eliminates the need to scrub
Product Specifications:
Scrubbing Bubbles offers you five discs of toilet cleaner in this package. You can enjoy a continuously clean toilet bowl with ease. With these toilet bowl cleaners, you can keep your bowl clean and free of unpleasant stains for up to four weeks.
Why You May Consider Using This Product:
You do not have to scrub your toilet to keep it clean when you use drop-in toilet cleaners. Just hang one disc in your bowl and forget about it until it's time to replace it.
The discs work continuously to keep your toilet clean and free of contaminants, bacteria, and limescale buildup. Scrubbing Bubbles drop-in toilet cleaners also remove hard water stains.
With every flush, your RV toilet will receive a dose of potent, stain-fighting, and odor-eliminating power that will help to keep it looking and smelling its best.
They are also safe for use with septic systems. Colorless liquid disappears when it is time for a new cleaner, so you know when it is time to replace the cleaner.
Pros:
♥ No scrubbing required with drop-in design
♥ Each disc work continuously for up to four weeks
♥ Eliminates odor-causing bacteria and contaminants
♥ Continuously cleans and freshens with every flush
♥ Leaves behind a refreshing lemon scent
Cons:
⊗ The scent may lasts for the first few flushes
---
5. Kaboom Scrub Free Toilet Bowl Cleaner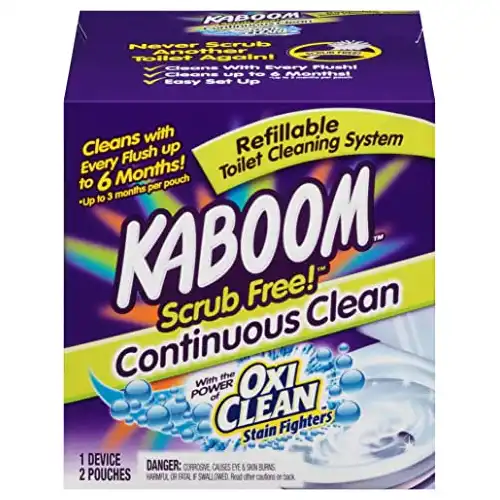 Highlighted Features:
Two refills included
Each refill pouch lasts up to six months
Safe to use with septic systems and toilet components
Clean the toilet with every flush
Provide pleasant scent
Product Specifications:
With Kaboom's powerful toilet bowl cleaner, you will receive two refills. It can be used for multiple toilets and will clean with every flush. The refill pouches last up to six months to enjoy a streak-free, scum-free bowl with little effort.
Why You May Consider Using This Product:
This unique toilet bowl cleaner is well suited for those who want a fresh and clean smell without having to deal with overpowering fumes. The pleasant scent will make your bathroom smell clean and fresh, and the powerful cleaning agents will get your toilet looking and smelling brand new quickly. This is an automatic toilet bowl cleaner that just needs to be installed and forgotten about.
It uses powerful cleaning agents to keep your toilet bowl clean without needing a dirty toilet brush. The installation process is very straightforward. Septic systems and toilet components are safe to use with this cleaner, so it can be a wise choice for RV toilets.
With Kaboom scrub-free toilet bowl cleaner, you can keep your bathroom clean and fresh smelling without having to worry about any hassles.
Pros:
♥ No need to brush for scrubbing
♥ Easy to install
♥ Powerful cleaning agents for sparkling toilets
♥ Fresh and clean scent that is not overpowering
♥ Remove stains and odor-causing buildup
Cons:
⊗ There may be a strong scent at first, but it will subside after a few days
---
RV Toilet Cleaner Comparison Chart:
| | | | |
| --- | --- | --- | --- |
| Product Name | Item Form | Quantity | Scent |
| Lysol Toilet Bowl Cleaner | Gel | 24 oz | Ocean Fresh |
| Vacplus Automatic Toilet Bowl Cleaner | Tablet | 12 tablets | Lemon |
| Iron OUT Toilet Bowl Cleaner | Tablet | 6 Tablets | Unscented |
| Scrubbing Bubbles Toilet Cleaner | Tablet / Block | 5 discs | Lemon |
| Kaboom Scrub Free Toilet Bowl Cleaner | Tablet | 2 Refills | Fresh |
Factors to Consider When Choosing a Quality RV Toilet Bowl Cleaner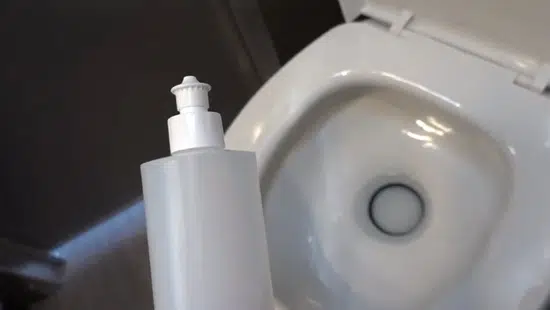 When it comes to choosing a reliable and right RV toilet cleaner, there are many factors you need to take into account.
This will help to ensure that you select a product that is well suited for your needs and will provide the level of cleaning power you require.
You will thus be able to keep your RV toilet clean and fresh throughout the entire season. We have listed some of the most important factors to consider below.
1. Type of Cleaner
The first thing you need to think about is the type of cleaner you want to use. There are two main types of RV toilet bowl cleaners: automatic and manual.
Automatic cleaners are easier to use as they do not require any scrubbing. All you need to do is hand them into the bowl and let them get to work. Manual cleaners, on the other hand, require you to do some scrubbing.
The cleaners are available in gel, tablet, or powder form. The best option for an RV toilet is a tablet cleaner, as they are easier to use with a septic system. Just hang the tablet into the bowl and allow it to do its job.
Gel cleaners are also effective. Apply the gel around the bowl's rim and allow it to remain for a few minutes before flushing. The choice of cleanser is ultimately up to you and what you feel comfortable using.
2. Ingredients
It is essential to pay attention to the ingredients in toilet bowl cleaners. You should ensure that the cleaner you choose contains safe ingredients. Many cleaners contain harsh chemicals that can damage your RV toilet.
Look for an RV toilet cleaner that is made from natural ingredients. This way, you will help protect your toilet and ensure that it remains in good condition and smells pleasant.
For the identification of safe ingredients, seek out cleaners that are biodegradable as well as environmentally friendly. These are typically the safest options on the market.
As you compare different cleaners, take the time to read the labels and learn about the ingredients. This will help you decide which product to use.
3. Cleaning Power
The RV toilet cleaner you select should also have a high level of cleaning power. After all, the whole point of using a cleaner is to, well, clean. Although all cleaners are designed to clean toilets, some are more effective than others.
The best rv toilet cleaner is one that can dissolve tough stains quickly and easily. It should also be able to remove odors effectively. When comparing different cleaners, pay attention to the reviews.
This will give you an idea of how well each cleaner works. You should also select a cleaning product that is safe for use in septic tanks. Your RV toilet will be protected and will continue to function properly.
4. Fragrance
Consider the fragrance of the cleaner when selecting the best toilet cleaner for RV. People have different preferences when it comes to fragrance, so you'll want to choose an RV toilet cleaner with a scent you enjoy.
It is common for some people to prefer a floral scent, while others prefer a more citrusy or fresh aroma. Some people prefer no fragrance at all. Another factor to consider is how strong the scent is.
The smell of some cleaners can be overwhelming, while others have a more subtle aroma. If you're sensitive to strong smells, you may need to choose an RV toilet cleaning product with a milder fragrance.
Consider how long the scent will last as well. In some cases, a cleaner's scent lasts for a long period, whereas in others, it lasts for a short period.
You can either read the product description on the product page or check the reviews to determine the scent of each cleaner.
5. Quantity
You need to consider the bottle size or the number of tablets included in the package to ensure that you will not run out of cleaner mid-trip. Another aspect of quantity to consider is how concentrated the cleaner is.
Some cleaners require you to use more products, while others are more concentrated and require less. Choosing a concentrated cleaner can help you save both money and storage space.
Consider how often you will be using the cleaner. A larger quantity may be necessary if you plan on using it daily.
On the other hand, if you only need it for occasional touch-ups, then a smaller quantity may suffice. Considering these factors, you can choose the best cleaner for RV toilets.
Can You Use a Regular Toilet Bowl Cleaner in an RV Toilet?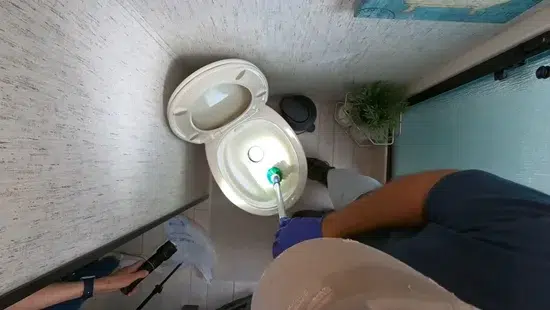 Most regular toilet bowl cleaners on the market today contain high concentrations of bleach. Although this may be effective in cleaning your toilet at home, it can cause harm to the internal components of your RV toilet.
It may be possible for you to use a regular toilet bowl cleaner in your RV if it contains no bleach and is made with natural ingredients.
The best method of cleaning toilet bowls in RVs is to use a toilet bowl cleaner designed specifically for RVs. The formulation of these products is designed to be gentle on RV toilets while still providing effective cleaning performance.
How to Clean RV Toilet Bowl with Cleaner?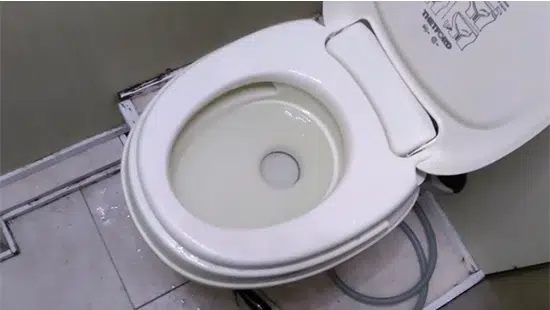 Cleaning an RV toilet bowl with a cleaner is a simple process. As you already know, various types of cleaners are available on the market.
The cleaning process may vary slightly depending on which cleaner you choose. Listed below are general instructions for cleaning an RV toilet bowl based on the type of cleaner you select.
For Gel Cleaners:
Before using a gel cleaner, turn off the shutter valve to prevent any cleaner from entering the holding tank. The next step is to squirt the gel around the rim of the toilet bowl.
Allow it to sit for the amount of time specified on the product label. Scrub the toilet bowl to remove any remaining stains using an RV toilet bowl brush. Flush the toilet to rinse away the cleaner.
Turn the shutter valve back on after flushing. This will allow water to enter the holding tank. After completing all these steps, you will have the cleanest RV toilet bowl possible.
For Tablet Cleaners:
The use of a tablet cleaner differs from using a gel type RV toilet cleaner. Because the tablet cleaner can be put to multiple uses, it is recommended to hang the tablet on the side of the toilet bowl.
There are several ways to accomplish this. You can make your own tablet hanger by tying a string around it. Alternatively, you can drill a small hole in the middle of the tablet and then hang it from a hook.
But the best method is to purchase a commercial toilet bowl cleaner hanger. To prevent water from entering the holding tank, close the shutter valve after hanging the tablet. It is necessary to fill the toilet bowl with water.
Within a short period of time, you will notice the tablet has melted, and the water in the toilet bowl has turned blue. Turn on the shutter valve so that water can enter the holding tank. Afterward, you will be able to see a clean RV toilet bowl.
Can You Use Toilet Bowl Cleaner In the Shower?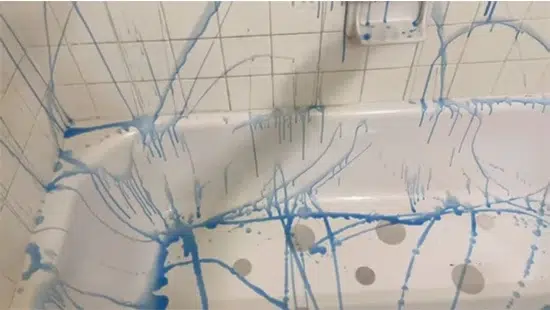 If you wish to apply toilet bowl cleaner to the shower, you may do so. It's not recommended to do this regularly. Ideally, you should use a shower cleaner that has been specifically designed for this purpose.
When using toilet bowl cleaner in your shower, remember a few things. Ensure that the cleaner does not contain bleach. You may only use cleaners in gel form. The tablet cleaner is not suitable for use in the shower since it needs to be hung.
Do not allow the cleaner to come into contact with your skin. In case it does, immediately wash it off with water. It is better to use gloves when handling the cleaner.
After applying the RV toilet cleaner, let it sit for a few minutes, and then scrub the area with a brush. Rinse it off thoroughly with water.
How Often Should You Clean the RV Toilet Bowl?
The frequency of cleaning RV toilet bowls will depend on how often it is used. A good rule of thumb is to clean the toilet bowl every time the RV is used.
This will help to prevent any odors from building up and keep the bowl clean and fresh. Cleaning the bowl with every flush is possible with tablet-based cleaners.
If the RV is not used often, it may only need to be cleaned once a month or so. You may need to clean it more frequently if it is frequently used, such as once a week.
What Are the Benefits of Using a RV Trash Can for Maintaining Hygiene in an RV?
Maintaining hygiene in an RV is crucial for a comfortable journey. Using a RV trash can not only helps keep the space tidy but also prevents unpleasant odors and pests. The top rv trash cans in 2023 are designed for compact spaces, with features like secure lids and odor-blocking technology. These cans make disposal convenient and help promote a healthy and clean environment during your travels.
Keep Your RV Toilet Bowl Clean with Quality Cleaner
It is now clear why it is important to use quality cleaners when cleaning your RV toilet bowl. Compare each type of cleaner we have reviewed and decide which is the most suitable for you.
The factors we have mentioned should also be kept in mind. Ultimately, we hope that you can find the best RV toilet bowl cleaner that meets your requirements.
To achieve the best results, follow the instructions provided with each type of cleaner. Whenever you clean your RV toilet bowl, you will be pleased with how clean and fresh it looks. Your efforts to find a reliable cleaner will also be rewarded.