Last Updated on September 25, 2023
It's apparent that you are looking for an ideal RV surge protector. If that's the case, then you will find this article an unbeatable information bonanza!
A functional RV has an array of electrical and electronic gadgets that range from a television set, refrigerator, microwave, air conditioner, humidifier, and many others.
These are premium RV gadgets that need protection from unfamiliar RV park power outlets, without which, you risk damaging them. The truth is that there are frequent power fluctuations in most parks.
Luckily, you can reliably protect your gadgets against power surges with an RV surge protector. Since there are many models in the market to choose from, we'll help you to find the best RV surge protector for your particular requirements.
The devices in this article will reliably protect your trailer and the gadgets in the container from open neutral, open ground, and reverse polarity power issues.
We'll also highlight the various types of surge protectors and provide you with a detailed buyer's guide. We'll furnish you with all the information you need to know about surge protectors.
You are in for a good read!
10 Best RV Surge Protectors in 2020
After reading all the benefits you can get with them, it is time to read some RV surge protector reviews that will make your trailer more secure. Here are 6 different models you can check out:
1. Progressive Industries Hw30c Hardwired Electrical Protector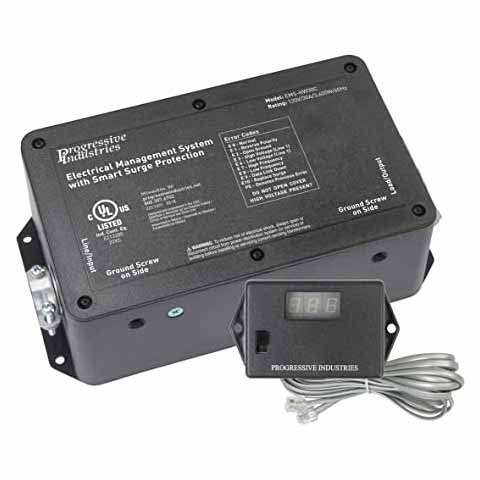 If there's a brand in the surge-protector market that always delivers quality without fault, then that's Progressive Industries. Among the many different things it offers, the HW30C protector is one of its best products. This magnificent Electrical Management Systems device will deliver complete protection for your RV.
From low-voltage issues to overloads, polarity, neutral protection, and more – there's no limit to what this device can do. There's even protection for accidental 240v connections and A/C frequency, which is something you won't get with many other models.
The best about this protector is the digital display that lets you scroll through its wide array of features from frequency to error code, current, and even voltages. You can analyze entire electric systems with one of these. If the device breaks, you won't have any problem replacing its parts either.
Everything is plug and play, which adds tons of convenience. And with its superb portability, you can make it work almost anywhere. You will even get a 14-foot data cable for exceptional convenience. There's nothing you won't be able to do with one of these.
As for its power ratings, you can make it work with 30 AMPs systems, at 120 volts, and 3600 watts of overall capacity. It also delivers 1,790 joules and 44,000 A.
In short, this model takes almost any kind of job you throw at it. Whatever the problem you may experience, this surge protector will make sure that it doesn't affect in any way.
For those who want an easy-to-use Electrical Management System that comes with all the necessary features for next-level protection, this is the model to go for.
---
2. TRC Southwire 44750 Portable Surge Guard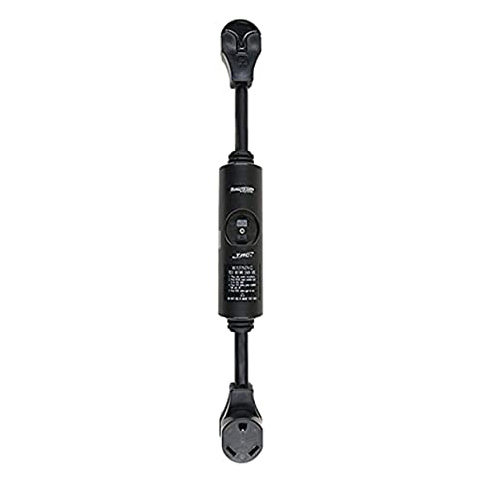 For those who prefer simplicity and budget-friendly models, the Southwire 44750 portable model from TRC will come like a gem.
You can make it work for almost any type of RV or motorhome. This happens thanks to a super versatile design that fits even in the hardest of places. And it will still protect your RV to the max without a single issue.
The device even shuts off when it detects ground problems. That's an effective protection feature that not many other models offer. As for installation, it doesn't demand any effort really. You can pair it up on any system as long as you follow its instructions carefully.
Furthermore, it comes with all the necessary protection features, including shock shield and ground protection. You won't have to worry about anything with this model, despite being smaller than its competitors.
Overall, it works well with 510 joules, 120 volts, and 30 AMPs without problems. In short, it works practically on any kind of RV. The best thing about this model is the superb cost. You can get it without having to spend a fortune, which is a considerable advantage when compared to similar options.
And lastly, it is easy to use thanks to the Easy-T-Pull handles in its design, which will enable you to get the most out of the product without making an effort. For those who are always looking for decently-priced items that go the extra mile – this Southwire 44750 model from TRC will work like no other.
---
3. Technology Research Surge Guard 34850 | Best 50 Amp RV Surge Protector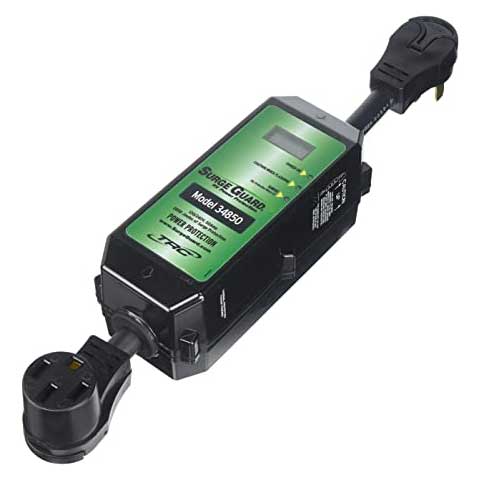 Want the best surge protector for RV? Then go for the Surge Guard 34850 from Technology Research. It is the largest portable model for demanding users out there.
The first thing you'll notice is the capacity to withstand 50 AMPs systems effortlessly. This is a huge benefit that will make your system more secure overall. Along with the 3850 joules of power protection, there will be virtually nothing capable of affecting your system.
If there's a power surge and you can't do anything about it, then you can rest assured that this device will take care of it. To save you tons of time, money, and effort, the 34850 Surge Guard from Technology Research comes with everything you need.
It even offers a continuous analysis of the system that makes sure the voltage and AMP draw is at bay. You will also get protection against reverse polarity, and elevated ground voltage or miswired pedestal. Whatever is happening in your system, this model lets you know.
Moreover, it has an LCD screen that you can use to know what the surge protector is trying to tell you. The built-in intelligent system comes with all the necessary functions to keep your electrical system working without drawbacks.
As for resets, it automatically goes to previous configurations when power restorations happen. So, if there's an issue and the protector had to turn off, you won't have to do anything to make it work again.
This system is amazingly well-made and small as well, which is an excellent feature for the overall safety it offers. You will literally have nothing to worry about when using this system, even though it has a portable design.
---
4. Southwire Surge Guard 35550 Hardwire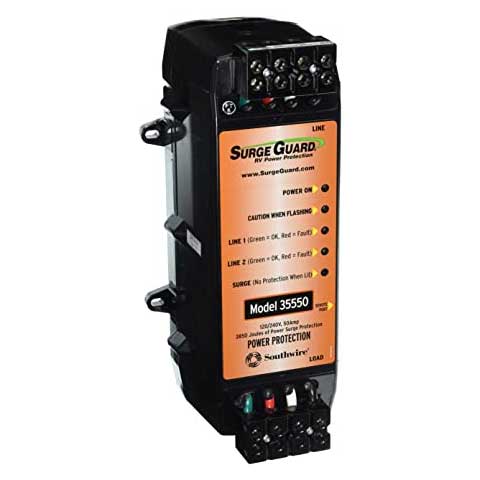 If you don't like portable systems because they could be less reliable, then you can always go for a hardwired model. Here's where the Southwire Surge Guard 35550 comes into play. Like another 50-AMP guard, it works on almost all kinds of large motorhomes.
Even in the most demanding models, this system will work perfectly well. It protects your electrical system from open neutral, open ground, power surges, excessive or low voltage, reverse polarity, elevated neutral current, and even miswired pedestal, and more.
There won't be anything capable of harming your RV appliances with this system. As a hardwired model, you can install it permanently anywhere on your RV. This is a massive advantage because it offers a long-lasting solution to protecting your entire electrical system.
Without having to be constantly checking it or hooking it up, this system will always perform well enough. The overall protection capacity is 3850 joules, 120-volts, and 50 AMPs as advertised. This means you can install it anywhere.
But the real benefit comes from its easy installation despite being a permanent model, making the whole system hugely practical.
And if any issue happens, the system will reset automatically. This reset feature even comes with an A/C protection system, which starts only after 128 seconds when power normalizes. After some time, you'll appreciate such a convenient model, especially for heavy AC users in RVs.
You can pair this model with a remote LCD screen, and you will get outstanding results. With one of those, you can achieve tons of new features with the system, which adds even better prevention capacity.
In case you appreciate high-quality models that leave nothing to be desired, the 35550 Surge Guard from Southwire should be your go-to choice.
---
5. Progressive Industries SSP30 | Best RV Surge Protector 30 Amp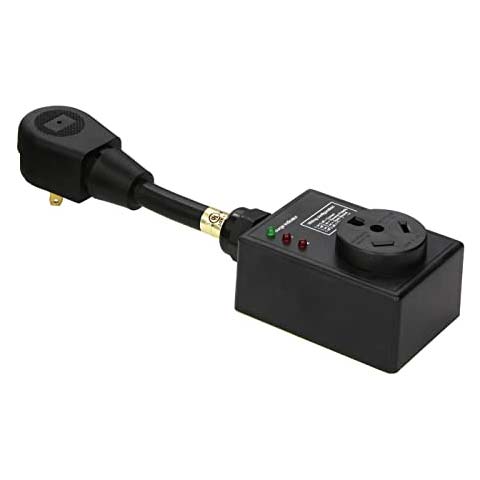 For our RV surge protector 30 AMP reviews, we couldn't leave the SSP30 Smart Surge from Progressive Industries out. This super portable system is one of the easiest to use, most reliable and well-made models in the market. Despite being a compact design, it offers almost the same kind of protection as hardwired models.
Here, you'll get enough protection to make 3600 watts, 22,500 AMPs, and 825 joules surges incapable of producing any damage. It will protect your RV from reverse polarity, open ground, open neutral, and overall surge problems.
In case there's something unusual happening in your electrical system, this small protector will let you know. If it needs to shut off to prevent issues, it will. And that will keep your RV free of any electrical problems for years.
The installation, as you could guess, is totally straightforward. By directly hooking it up to a power source and then connecting other appliances, this protector takes protection to another level. This pairs up with its compatibility with 120-volts and 30 AMPs systems.
Moreover, the design is ultra-small, as well. You can take it anywhere you go inside your bag, and it won't be an issue.
Overall, this small and sleek model protects just like any larger model but without the installation hassle. If that's something you want, then don't hesitate and get this model. It will make your RV electrical system a lot safer.
---
6. Progressive Industries SSP50 Smart Surge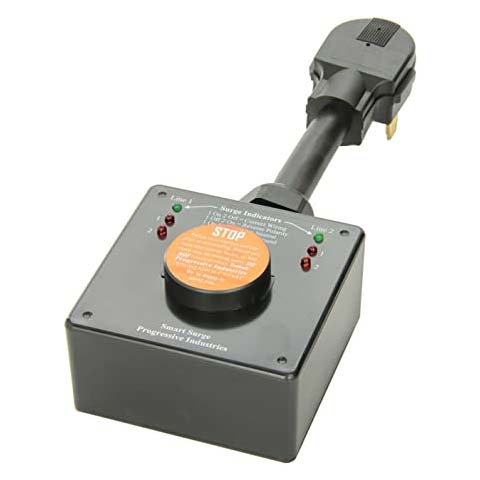 There's probably not a better surge protector than the SSP50 if we're talking about portable models. And sure enough, it leaves almost nothing to be desired.
With the ability to work wonders in 120 or 240-volts and 50 AMPs, you can get a 4-mode system that protects from surges that go up to 1650 joules and 45,000 AMPs and 12,000 watts. You won't have to worry about anything with this system, as it is always testing against polarity, surges, and other issues.
The entire design is super small and portable. But it is still one of the easiest to use. You just need to hook it up to a power outlet, and the rest will be just connecting your electronics to it. This will be enough to get it working and protect your entire RV electrical system.
An excellent feature of this model is the 3-color indicator that lets you know when the electricity is acting unusually. On top of that, it is totally thermal-protected and provides a weather-resistant construction that makes it useful for outdoors.
There's simply no limit to what you can do with this system. Add up the extra small design that you can take anywhere, and this model will leave you completely satisfied.
It is simple, durable, resistant, and truly practical. If you are going for a high-end portable model that will take your electrical protection to another level, then this one will be a perfect choice. Your RV will never suffer from any problem once you install this system.
---
RV Surge Protector Buyer's Guide
So, you've read all our RV surge protector reviews, but you're still confused about which model to go for. Well, don't worry. With the different aspects and features in this section, you'll learn what to consider. Take a look:
1. AMP Rating
One of the first things you'll have to think about is how many AMPs the system can handle. To explain amperage, we can say that this is the amount of electricity that goes through the current. Every electronic on your RV will have a specific amperage need, so it is crucial for the surge protector to match that amount.
Usually, they go from 30 AMPs up to 50 Amps. These limits will tell you how well it will work, depending on the capacity of your trailer electrical system.
A 50 AMPs model can work with less than 30 AMPs without problems. But you can't hook up a 30 AMPs protector to a system that uses more than 30 AMPs as that could end up in overheating and similar electrical issues.
Most 50 AMPs protectors come with 4 pins, while 30 amp surge protector come with only 3 pins. Each model offers a specific type of compatibility with your system.
2. Joules Rating
Joules is another measurement of electricity. But this one doesn't refer to the current but to the force. In short, it is the amount of force created by electricity within electrical systems. When joules increase, electronics tend to overheat.
Knowing this, you should always make sure that the surge protector can handle the number of joules a surge can produce. This will prevent your appliances from getting fried.
In this measurement, the count tends to be between 800 and 4000 joules. The more joules the protector can handle, the better it will be for your electrical system. We recommend going over 1000 joules of protection for the safest result.
3. Voltage
Voltage refers to the force electricity uses to pass through wires and electrical systems. So, it is essential to know how much your surge can handle. Here, you will find that most systems use either 120v or 240v. But you can also find 140v models in the US and other countries.
Some countries even use both 120v and 240v. As a measure of force, this is critical to get right, as it could eventually have a significant impact on how well your RV handles the electricity.
Luckily, most trailers work well with 120-volt protectors because that's the usual system they use. But it also depends heavily on the country you are in. In Europe and Asia, even motorhomes use 240v systems, so you'll have to pick accordingly.
4. Watts Capacity
Watts is the actual measurement of electricity. But most of the time, it is used to know how much energy a product uses.
This watt measurement is also essential to consider in surge protectors because watts is the amount of electricity that every appliance will need. But if the electrical system provides more wattage than required, and the appliance overcharges, you could end up with overheated, burnt, or faulty electronics.
That's why it is vital to get a surge protector that could handle as many watts as possible to prevent any damage to your appliances. The regular amount of watts a protector supports goes from 1000 watts up to 12,000 watts. We recommend going for the highest amount possible – that will ensure much better protection overall.
5. UL Seal
Not many people know this, but a UL seal is a pretty big thing to think about. It refers to the Underwriter's Laboratory, a certification system that guarantees the product as an effective one.
This won't make a protector necessarily better but offers the chance to know that the product you're getting is backed up by a reliable organization.
6. Protection Level
This refers to the different types of protection you'll get with the system. The best RV surge protector will protect you from all possible issues.
Here, you'll find problems like frequent power surges that increase voltage, watts, amps, and joules in systems that could end up burning your appliances. Then, you'll find the opposite, which is low voltage problems which could cause your systems to become faulty due to lack of power.
Other problems like grounding and miswiring are also common within trailers, so they are essential to consider when getting a new surge protector.
But it is not only the type of protection you'll get but how fast the protector will react to the problem. Remember, surges, and other electrical issues happen in a blink of an eye, so it is essential that the surge guard works fast enough.
Our recommendation is always going for systems that are super responsive like Progressive Industries and TRC models – two brands that make sure your RV is secure. All the protectors from these brands response in nanoseconds, which prevents damage to your electronics from slow shut-offs.
7. Diagnostic Functions
Apart from protecting against different types of problems, it is also crucial that the surge shield diagnoses when there's a chance of something happening. You could say that a diagnostic feature will prevent issues before they even happen.
Most models nowadays come with pedestal diagnostics, surge analyses, and other similar voltage or electricity testing functions. This allows the device to prevent most issues.
8. Type of Installation
The installation system is also critical if you want to know whether the device is ideal for you or not. The primary purpose is to decide between hardwired and portable designs.
A portable model comes with a plug-and-play design. That means you won't have to make any installation apart from just hooking up the protector to an outlet. Then, you can connect any electronic or electrical system to it. This will keep everything that connects to the protector safer.
In contrast, a hardwired system needs to be installed in walls. These are often less convenient for trailers because you'll have to set up a whole space for their installation and eventually connect the wires directly. But it offers a more permanent solution, and sometimes a much more reliable one.
9. Ease of Installation
While portable designs are often easier to install than hardwired options, they both also differ within their own categories. Some portable models are not as easy to set up as they seem, and hardwired systems can also be easy or too difficult.
That's why we recommend going for the most straightforward designs as possible. Of course, plug-and-play models are always better for their portability. But if you go for a straightforward hardwired design, you may get something easy to install and probably more protective.
10. Weight
The weight will have a considerable impact on how easy you can transport the protector and how easy it will be to hook it up to the electrical system in your RV. Of course, the lightest models are always more practical.
11. LED Display & Lights
Having LED lights and a display on your surge shield will be a significant advantage to consider. This happens because lights and LEDs tend to display whether the electric system is working as it should or not. Some screens come with specific error codes or issues that will let you know automatically.
On the other hand, the lights and displays will make it easy to know whether the protector is turned on or not. Otherwise, you may end up confused about the performance of your surge guard.
12. Cost
Not many people tend to consider the price of a surge protector because they instantly think they are expensive, no matter what. But you can actually find affordable options that won't deliver many drawbacks.
These models are often portable and easy to use. They may not last as much as an expensive surge shield, but they will probably stand several months or years of use while protecting your appliances effectively.
13. Noise
We don't recommend protectors that produce any noise. When this happens, it is usually a sign of a problem inside the device. Sometimes, these sounds can even become dangerous and make it impossible to touch the product.
Overall, we encourage noisy surge protector owners to get rid of their old models and get new ones. That will make them safer.
Different Types of Surge Protectors
You already went through all the important factors, it is time to learn about the two main types of protectors out there:
Primary Type
These go directly into the power lines of buildings. Also known as hardwired protectors, they offer the safest and most protective systems. These can often handle lots of outputs. They are better for entire residential units or large commercial properties.
The only issue is the installation. These systems tend to demand several minutes or even hours to start working.
Secondary Type
These are the portable ones that you can connect to almost any system using an outlet. They come with standard connectors so you can connect them directly and then connect appliances or entire small electrical systems to it.
You will only get one output with a secondary type protector. But they offer almost the same kind of protection but with lots of extra portability & convenience. The issue is that if you want to protect more than one appliance, then one of these may not be ideal.
Benefits of Using an RV Surge Protector
A surge protector is not only a means of protection. There are actually a few different things that you can get from it, such as:
It keeps your appliances free of electrical damage. If something terrible happens, they will be protected from any overload.
Low-voltage problems tend to produce damage in electronics as well. If the electrical system hesitates or fails, a surge protector also keeps your devices safe.
You will know whether the power source of your RV is working correctly or not. It will also let you know how many appliances you can use without producing damage.
Surge protectors are way more affordable than entire electrical systems. You can save several hundred dollars with one of these.
Surge protectors can detect fires, overheating, and melting issues and prevent any problem from escalating.
Frequently Asked Questions
You already went through our reviews and buying guides. But even then, you may be ultra-confused about what model to go for. This next section could be enough to clear any confusion you might have:
1. Is an RV Surge Protector a Necessary Thing to have?
Yes, having a surge shield on your RV will prevent common electrical problems. In fact, we can go as far as to say that this is the most important investment you can make for your trailer.
This will get rid of worries you may have about the electrical system. Once you start experiencing electric deficiencies, then you're likely to begin preoccupying. To prevent anything from happening and relieve some of the worries, a surge protector will be your best friend.
It becomes an even more important factor if you have tons of appliances inside the RV. From AC systems to humidifiers, small refrigerators, and the likes – they all need proper electrical protection. Use a surge shield, and you won't need anything else.
2. What are the Best RV Surge Protector Brands?
There are several brands to consider here. But overall, we have two that are the most efficient, easy to use, and most reliable of all. These two brands are Progressive Industries and Technology Research or TRC.
Both of these brands deliver the durability, resilient, and protection you need for your RV electrical system. But the real advantage comes from the fast response to electrical issues. They are known to prevent problems just at the moment they happen, or even before with diagnostic functions.
Apart from that, both brands deliver hardwired and portable models of the highest quality. If you're looking for a portable surge protector, then both brands work well for that. But if you go for a hardwired device, then you won't be disappointed either.
3. Are Surge Protectors Waterproof?
Not many surge protectors are totally waterproof. But some of them are which means they are way better options, especially for trailer electrical systems.
These devices with waterproof construction are often made with high-quality materials that prevent splashes and direct contact with water to produce any damage. On top of that, they don't let any kind of humidity from damaging their internal parts, which is a huge advantage to have in motorhomes.
If you want a more protective and reliable model, go for a surge shield with waterproof construction. That will make your RV electrical system way safer.
4. Where are Surge Protectors Made? Where can I Buy Them?
Many surge shields nowadays are made in the USA. But some of the parts and other different components may come from all around the world.
If we talk about Progressive Industries models or TRC ones, we may find that they are all made in the USA. This adds the extra touch of reliability that you won't find in many products made in Asia, for example.
As for the place to buy them, we recommend Amazon. This happens because you'll find the most extensive array of options, with models from all kinds of brands and types that you can pick according to your needs.
Other online retailers may be helpful, as well. But they are not as fast, reliable, or cheap as Amazon.
5. Should I Go for an Electrical Management System (EMS) or a Surge Protector?
An EMS is also a type of surge protector or at least a slight alternative. But they are mostly the same.
For us, you can choose either and still get all your RV electrical system to be protected. However, EMS devices are often more practical with a few more features than standard surge guards – so they can be excellent options.
6. How can I use an EMS with an RV Inverter Generator?
An EMS is the best option if you have an inverter generator on your trailer. They are often used for recreational purposes only, like installing decorative items and other appliances.
But if you have an EMS, then you won't be able to use the inverter. This happens because they won't let any electric flow go into the vehicle.
7. 50 AMP or 30 AMP RV Surge Protectors: Which One to Go for?
It all comes down to your specific needs. As you should know by now, most 30-AMP protectors work with 30-AMP RVs – and the same happens with 50-AMP options. But if you intend to update the power system of your trailer in the future, going for a 50-AMP model can be your best choice.
8. What is the Warranty of Surge Protectors?
The more warranty you get with your surge protector, the better. They should have at least 1 year of warranty with full reimbursement or replacement availability. But we recommend models with 3 or 5 years of warranty for the best results.
Most surge guards tend to last a long time, sometimes decades. That's why some brands may even offer lifetime warranties, which can be a huge plus. You won't have to worry about your protector or its parts, even in the long term.
9. How to Install an RV Surge Protector?
The installation process of a surge guard shouldn't take more than just a few seconds or even minutes. Especially if we're talking about portable models, you will probably only have to connect the device to the outlet, and that's it.
For hardwire systems, the process could take a little longer. But overall, it is just about screwing the protector to the wall, hooking up the cables, and that's it. An experienced contractor or electrician can do this in less than 10 minutes.
10. How to Secure an RV Surge Protector?
Securing the surge protector on your RV is all about making sure that it won't fall off when you're driving. To make sure of that, you can use the locking brackets most models come with. An alternative can be screws, bolts, or hooks. We recommend using covers on top of the protector for extra safety.
11. How to Use an RV Surge Protector?
You just need to connect the device depending on its design, and then hook it up to your electric system. Most surge shields work automatically, so you won't have to do anything to operate them. Still, you should read their user manual if possible.
What Makes These Trailer Jacks Suitable for Changing RV Tires?
When it comes to changing RV tires, the top trailer tire jacks 2023 are the perfect choice. These innovative jacks are specifically designed to provide optimal support and stability, allowing for convenient tire replacement. Their sturdy construction and user-friendly features make them suitable for any RV enthusiast in need of reliable equipment.
Final Words:
RV surge protectors are simple devices that provide a lifeline for your RV electrical system and accessories from malfunctioning power outlets.
Most electrical problems related to RV park electrical power systems result from low voltage or sudden electrical surges that will most often damage your RV accessories.
However, we're not here to frighten you, rather to provide you with solution. With all the information in this article, we hope that you are now properly armed to find the best RV surge protector.
Sale