Last Updated on April 6, 2023
An RV retractable awning can be a fantastic way to add extra protection from the weathering, but with so many different brands and models, it can be tough to know where to start.
The two most popular manufacturers on the market today are Carefree and Dometic. Both of these brands have a well-deserved reputation for quality and durability, but there are some critical differences between them.
As we proceed through this article, we will compare two of the most popular travel trailer awning brands: Carefree vs Dometic Awning, which could be helpful for you in making a decision.
Also, we will review the top reasons for you to choose one of them. So without further ado, let's get started.
Carefree VS Dometic Awning : What are the Differences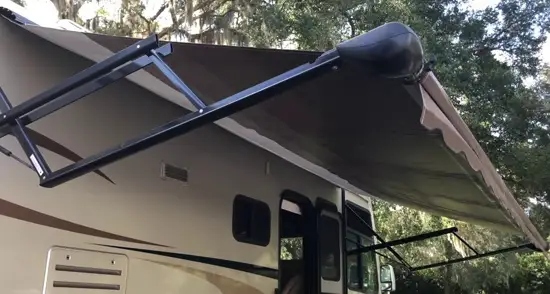 When protecting your RV from the sun and rain, you have two primary options: a carefree awning or a Dometic awning. Both types of shelters have advantages and disadvantages, so choosing the one that's right for you is essential.
Here are some key differences between Carefree and Dometic shelters:
Awning Material:
Carefree sunshades are made from the highest quality vinyl, durable, and easy to clean. Besides, they are available in various colors and patterns to match your RV's exterior.
As an alternative, Dometic canopies are made from heavy-duty polyester reinforced vinyl awning fabric, which is more breathable and provides better UV protection. They also offer a more comprehensive range of sizes and shapes.
Ease of Use:
When it comes to user-friendliness, Carefree wins hands down. Their awnings are designed with simplicity and can be set up and taken down in just a few minutes.
Dometic models are not challenging to use, but they require slightly more time and effort than Carefree. Carefree offers optional accessories like LED lights and wind sensors that make using your awning even more straightforward.
Weight of the Awning:
The shelter's weight will depend on the materials it is made from and its size. Carefree camper awnings are lightweight and easy to operate, while domestic roofs use heavier-duty fabrics that offer better resistance from the elements.
Carefree models generally weigh approximately 25 pounds, while Dometic awnings range around 60 pounds.
Awning Size:
When comparing Carefree and Dometic awnings, it is crucial to consider the size options. The Carefree is available in sizes ranging from 7 feet to 9 feet, while the Dometic ranges from 5 feet to 20 feet.
Both brands offer a variety of widths to choose from, so you can find a shelter that will fit your needs. If you are looking for a giant awning, Dometic is the better option.
Ease of Installation:
Carefree awnings are generally much easier to install than Dometic ceilings. That's because they don't require drilling or brackets; you simply attach the canopy to your RV.
In contrast, Dometic shelters are slightly more complicated to install, as they need specialized tools and brackets, which can be a bit more time-consuming. Once you've got the hang of it, both types of tops are easy to install and remove.
Awning Design:
Carefree has a more straightforward design than some RVers prefer. These awnings are distinguished by their simplicity and durability. They offer manual and electric options in several different styles. They also offer optional features such as a wind sensor and LED lights.
But if you're interested in an awning with more personality, Dometic's patterns and colors might be more your style. Dometic canopies are also available in manual awning or electric models.
They come in different shapes, sizes, as well as colors. They also feature intuitive controls and an array of optional RV parts.
Availability:
Carefree awnings are sold by many different retailers, both online and offline. But you have to specify the make and model of your RV when ordering. The part or serial number on the roller tube identifies Carefree products.
You can locate it under the front slat of the cover. Dometic awnings can be found at an online retailer or even via a website. You can also find them at some home improvement stores.
Shade & Protection:
The Carefree RV awning offers less shade than the Dometic, as it does not extend further from the RV. The Dometic model provides better weather protection, as it has a sturdier awning frame and can be easily secured when not in use.
The Carefree patio cover might be the better option if you are mainly concerned with creating a less shady space to relax or entertain. If you want an awning that will provide reliable defense from the sun and strong wind, then the Dometic is the better choice.
These are some of the key comparisons of Dometic and Carefree awnings. When selecting a shelter for your recreational vehicle, it is essential to consider your needs and preferences.
Carefree or Dometic Awning | Which One is Right for You?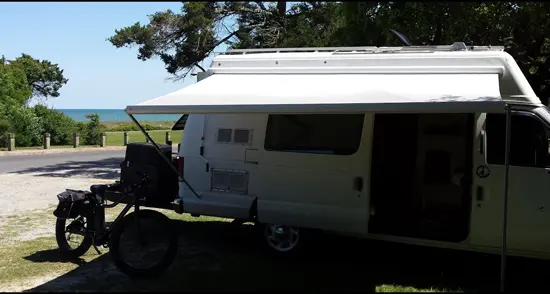 Dometic and Carefree offer various models and sizes, depending on personal preference. The right awning can make all the difference when enjoying time outdoors. Here are some things to keep in mind when choosing between the brands:
01. Carefree has been manufacturing awnings for over 50 years, and they are one of the most trusted names in the industry. They have a wide range of styles and colors, and their products are known for their durability and easy setup.
Dometic is another prominent maker of these products, and they offer a similar selection of products as Carefree. Their shelters are also of high quality and easy setup, and they are often considered more stylish than their competitors.
02. When it comes to easy awning setup, Carefree is a great option. Their ceilings come with an easy-to-use crank handle, allowing you to operate the shade easily.
If you're seeking a tent that will give you maximum sun and rain protection, Dometic is the way to go. Their shade structures are made with heavy-duty awning fabric that will stand up to the elements.
03. Carefree offers several features that make their models easy to use and maintain. For example, their patented power leg system ensures that your awning will always be level, no matter how uneven the ground underneath.
Dometic offers awnings in various sizes and styles, from small window shades to large full-length units. They provide shades for all budgets, so you're sure to find one that fits your needs.
04. Carefree's Easy Pitch adjustment system allows you to fine-tune the angle of your awning to get the right shade. On the other hand, Dometic's models come with a pre-set angle, so you might be able to adjust them with little difficulty.
05. Carefree awning uses a lighter-weighted aluminum frame that makes the awning easy to erect and remove. Dometic tents use a heavier-duty frame that can be more difficult to maneuver.
Aerials manufactured by Carefree and Dometic have many similarities at first glance, but they differ in several ways. In the end, you must choose the awning brand that suits your preferences.
Dometic and Carefree provide similar high-quality products to give you years of enjoyment. With Carefree or Dometic, you cannot go wrong regardless of whether you prefer convenience or style.
Considerations When Choosing a Dometic or Carefree Awning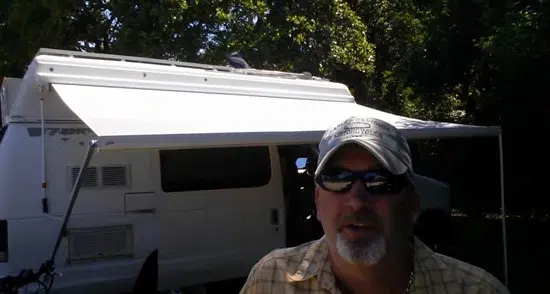 There are a few things to remember when choosing between a Dometic and Carefree awning:
Size of the Awning:
Both companies produce excellent products; there are some significant differences; size is among the most critical concerns. Dometic awnings come in various sizes, from small to large, while Carefree products are only available in limited sizes.
So if you have a specific size in mind, Dometic AE is probably the better option. For RVs with slide-outs, it is vital to choose an awning that is long enough to cover the entire slide-out when extended.
Awning Weight:
Not all tents are created equal, and one of the key factors to consider when deciding on a shelter is its weight. A heavier awning will provide more stability in windy conditions, but it will also be more challenging to mount and take down.
Conversely, a lighter canopy may be easier to handle but may not provide as much shielding from the wind and sun.
Dometic awnings are typically larger and heavier than Carefree units, providing more security in windy weather. This also means that Dometic shades are more complicated to erect and dismantle.
Material of the Awning:
Dometic and Carefree manufacture their awnings from high-quality vinyl designed to withstand the weather. But in specific, Dometic canopies are usually made from heavier polyester reinforced vinyl, whereas Carefree awnings are typically made from lighter-weight fabrics.
The vinyl awnings are also UV-resistant to help keep your ceiling looking new for years to come. The material is mildew-resistant and easily maintained, making it a low-maintenance option for your RV.
FAQs
Let's take a look at some frequently asked questions about Dometic and Carefree awnings:
Q: Are Carefree Awnings Any Good?
Yes! Carefree awnings are particularly durable and convenient to use. They offer many features that make them an excellent choice for any RV owner. Carefree tents can be easily installed on the side of your RV and provide much-needed shade on those sunny days.
They are easy to open and close, so you can enjoy the outdoors even when the weather isn't ideal. Best of all, carefree awnings require very little maintenance, enabling you to relax and enjoy your time outside without worrying about keeping them in good condition.
Q: Who Manufactures Dometic Awning?
Dometic is a leading manufacturer of awnings and other RV accessories. The company has been in business for approx 20 years and offers a wide range of RV products to suit any need. Some of their most popular products include electric, manual, and aluminum awnings.
Q: Are Dometic Awnings Waterproof?
Yes, Dometic awnings are waterproof. They're one of the main reasons people buy Dometic sunshades in the first place. Not only do they provide excellent weather resistance, but they're also easy to care for and maintain.
When choosing an awning, waterproofness is an integral factor to consider. And with Dometic products, you can be confident that you're getting a product that will withstand harsh weather conditions and keep your family dry and comfortable for many years.
Q: How Do I Know Which Carefree Awning I Have?
There are a few different ways to determine your carefree shade model. First, check the model or part number printed on the awning replacement fabric.
This should be located near the bottom of the shade, on either the left or right side. If you cannot find the model number, or if it is worn away, you can also check the engraved or painted model number on the hardware attached to the awning roller tube.
Each model of Carefree products has slightly different hardware, so this can be a helpful way to identify your awning.
Q: How Much Slot Does Carefree & Dometic Awning Have?
Carefree and Dometic tents each have three slots. These can be used for various purposes, including adding extra stability to the shelter, attaching accessories, or providing additional ventilation.
Two to protect the RV awning fabric and one to cover the accessories. While three slots may not seem like much, they can make a big difference in the overall function and durability of the structure. The slots can easily be modified to meet the user's specific needs.
Conclusion
In terms of awnings for your RV, both Carefree and Dometic offer top-quality items that will provide you with years of enjoyment. These awnings are constructed from durable vinyl that can withstand natural elements.
But there are key considerations to consider, such as size, weight, and material. So before making your final decision on the best RV awning, consider the differences between the two brands to ensure you choose the right awning for your RV.
We hope this article helped you decide between Carefree vs Dometic awning for your RV. Remember the key considerations, and compare both brands to find the perfect top for your RV.