RVers know that cooking inside their camper can be smelly and hot, so they often choose to cook outdoors. Not only does cooking in an RV makes it smell bad, but it can also be a fire hazard. Now, what if you could have the best of both worlds?
In fact, this is possible. Just make sure you have an RV outdoor kitchen setup on your RV. It can provide extra counter space and a stove, oven, and sink. You will be able to cook all of your meals outside, keeping your RV smelling fresh and cool.
For this, you need to know how to add outdoor kitchen to camper so that it provides the facilities you need in a kitchen.
Throughout this article we will discuss adding an outdoor kitchen to your trailer, its uses, and its benefits, so you can decide if it's something you need.
Steps On How to Add Outdoor Kitchen to Camper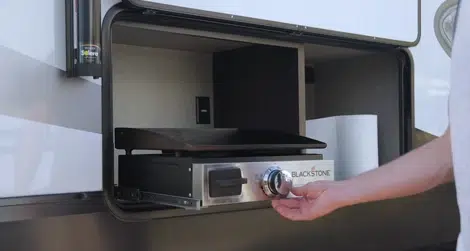 Outdoor kitchens are a great way to cook while you're camping, but not all of them are very functional. If you want an outdoor RV kitchen that will help you make the most of your camping trip, follow these steps.
Step 01: Plan the Layout
The first thing you need to do is plan the layout of your outdoor kitchen. You need to decide where everything will go and how it will all fit together.
This is especially important if you have a small camper because you need to make sure that everything fits and there is enough counter space.
Step 02: Choose Your Appliances
Now that you know where everything will go, it's time to choose your appliances. You need to decide what type of stove, oven, and outdoor sink you want.
You also need to decide if you want a fridge or not. If you do, make sure it's big enough to hold all of your food.
Step 03: Build or Buy Your Outdoor Kitchen
After you have determined what you need, it's time to build or buy your outdoor RV kitchen. If you're handy, you can build your own.
However, if you're not handy, you can buy pre-made RV outdoor kitchens. There are many different types and sizes available.
Step 04: Install Your Outdoor Kitchen
Once you have your outdoor cooking kitchen, it's time to install it. To do that follow the guides below:
i) First, take measurements of your RV and the area where you want to install the outdoor cooking utensils. This will ensure that the outdoor RV kitchen fits perfectly.
ii) Next, mark the area where you will be installing the outdoor kitchen. This will help you know where to drill holes for the screws.
iii) Now, it's time to install the countertop. Start by putting the screws in and then put the countertop on top of them. Make sure that it's level before you move on.
iv) After that, you can install the appliances. Just follow the instructions that came with them.
v) Finally, install the cabinets and drawers. This will help you keep everything organized and in its place.
Now that you know how to add an outdoor kitchen to your trailer, you're ready to enjoy all the benefits it has to offer.
Step 05: Enjoy Your Outdoor Kitchen
Now that you have your outdoor cooking utensils installed, it's time to enjoy it. Cook all of your meals outside and enjoy the fresh air.
Your outdoor kitchen will make camping much more enjoyable and allow you to camp for longer periods of time. Plus, it will add value to your RV.
Outdoor Kitchen Setup Ideas For RV Camping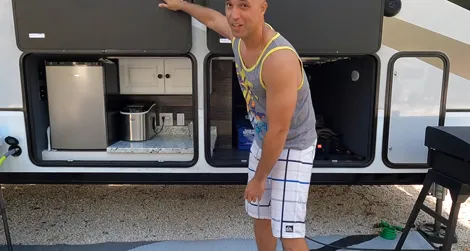 If you're looking for some ideas on how to set up your cooking outdoors kitchen, here are a few ideas.
Use a Portable Stove or Campfire
If you don't want to install a full-service kitchen, you can use a portable stove or campfire. This is a great option if you're only going to be outdoors for a short period of time.
Use an RV BBQ Grill
If you have an RV with a built-in BBQ gas grill, you can use that as your outdoor kitchen. Just set it up on the side of your RV and you're good to go. Coleman road trip grill is a great option.
Use an Outdoor Kitchen Kit
There are many different types of outside kitchen kits available. These kits come with everything you need to set up your outdoor cooking kitchen, including the countertop, appliances, and cabinets.
Use a Pop-Up Camper Outdoor Kitchen
If you have a pop-up trailer, you can set up outdoor kitchens in it. Just make sure that you don't put the stove or oven too close to the edge of the vehicle.
Use Some Appliances from Your Home Kitchen
You can also use some appliances from your home kitchens, such as your coffee maker, toaster, and crockpot.
Others are a countertop ice maker, mini-fridge, dual burner stove, and slideout gas cooktop, and you can also add a large flat panel TV for entertainment.
Setting up outdoor kitchens is a great way to enjoy your RV trip. By following the steps above, you'll be able to set up your exterior kitchen quickly and easily.
Advance Tips for Using Outdoor Kitchen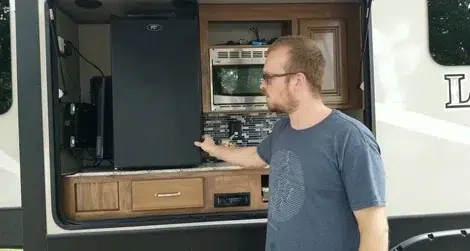 Below are some advanced tips that you should keep in mind when using your outdoor kitchen:
If you're going to be cooking in your kitchen, make sure that the area is well ventilated. This will help to prevent any fires.
When using an oven, never leave it unattended. This is a very important safety tip.
If you're using a gas stove, make sure that the area is well ventilated. This will help to prevent any explosions.
Always clean up your kitchen after use. This will help to keep it looking its best and prevent any pests from infesting it.
When not in use, make sure to cover your kitchen. This will help to protect it from the elements and keep it clean.
While a travel trailer outdoor kitchen is a great addition to any RV, it's important to use it safely. By following these tips, you can enjoy all the benefits of an outdoor kitchen without any of the risks.
Key Applications of an Outdoor Kitchen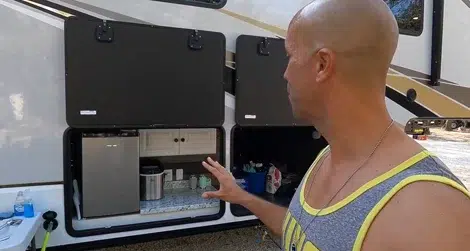 One of the best parts about having an outdoor kitchen is that you can use it for more than just cooking. Here are some other key applications of an external kitchen:
Entertaining Guests
An outdoor kitchen is a perfect place to entertain guests. Whether you're having a barbecue or a party, your exterior kitchen will be the perfect place to host it.
Relaxing
After a long day of hiking or exploring, an outdoor kitchen is a perfect place to relax. You can sit back in a chair and enjoy the beautiful scenery.
Dining
An outdoor kitchen is also a great place to dine. You can cook up a meal and then enjoy it outdoors. This is a great way to enjoy the outdoors without having to leave the comfort of your RV.
Storage
An outdoor kitchen can also be used for storage. If you're going to be away from your RV for a while, you can use your exterior kitchen to store food and other things. This will keep your RV from getting cluttered and will help to keep it organized.
There are endless possibilities when it comes to using an outdoor kitchen. Whether you're cooking, entertaining, or just relaxing, an outdoor cooking area will make your RV experience even better.
Frequently Asked Questions
There are a few frequently asked questions when it comes to outdoor kitchens, which are answered below:
1. How Do You Use an RV Outdoor Kitchen?
There are many different ways that you can use an RV outdoor kitchen. First, you can use it for cooking. Second, you can use it for entertaining guests. Third, you can use it for storage. Fourth, you can use it for dining. And fifth, you can use it for relaxing.
2. How Do You Make a Camper Kitchen Slide Out?
Start by determining the dimensions of your slide-out and cutting plywood accordingly. Then, attach sturdy hinges to the backside of these pieces so that they can be opened and closed easily. Attach the tracks at both outer edges of the opening where your kitchen will slide out.
After everything is in place, you can begin installing hooks and latches to secure the track when not in use. And with these basic steps under your belt, your newly made camper kitchen slide-out should be ready for action.
3. Is an Outdoor Kitchen worth It on an RV?
There is no denying that an outdoor kitchen on an RV is a luxury, but when carefully considered, it might just be worth the investment. With modern advances in RV design, it's now possible to create a sleek and functional patio kitchen without taking up too much space.
Conclusion
An outdoor kitchen can make your camping trip more enjoyable because you won't have to worry about the smell of cooking inside your camper. It can also keep your camper cooler because you won't be cooking in it.
Plus, an outdoor kitchen gives you more counter space to work with and it can help you stay organized. So, if you're looking for a way to make your camping trip more enjoyable, an outside kitchen is a great option.