Last Updated on April 26, 2023
Keeping your RV interior pristine is crucial to ensure its longevity and enhance its resale value. But with all the adventures with RV living, spills and stains will inevitably occur on your dinette cushions.
These cushions are essential to your RV's interior for dining and as a comfortable seating area. Cleaning them may seem like a daunting task, but fear not. You can clean them easily by removing the cushions, vacuuming them, and spot-testing them.
Today, we will guide you through the process of cleaning RV dinette cushions effectively so they will remain in excellent condition for many years to come.
How to Clean RV Dinette Cushions: Easy Steps Guide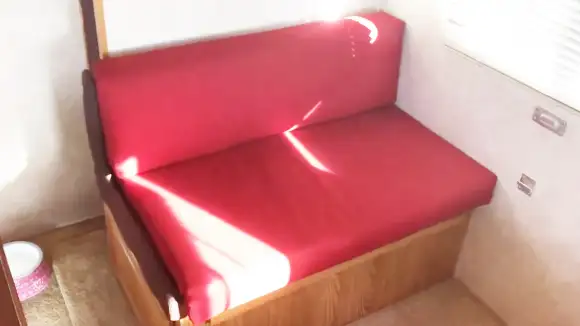 The following steps will help you clean your RV dinette cushions:
STEP 1. Removing Dinette Cushions
Removing RV dinette cushions is the first step in cleaning them. To remove the cushions, you need to locate and unscrew the screws that hold them in place. The screws are usually under the cushion or on the sides of the dinette.
After removing the screws, lift the cushion carefully and place it on a clean surface where you can work on it. When removing the cushions, be careful not to damage them or tear any part of them.
Sometimes, you may find that your RV dinette cushions are attached to their frames using Velcro. In such cases, gently pull away each cushion from its Velcro attachment point until it comes off.
You must track which cushion goes where during removal to put them back correctly after cleaning. You can use a marker or tape to label each cushion's corresponding location.
Also, removing RV dinette cushions allows easy cleaning as it gives access to all cushion parts. It also makes it easier to vacuum and spot-clean any stains before the deep cleaning.
STEP 2. Vacuuming the Cushions
Vacuuming the cushions is essential in preparing your RV dinette cushions for cleaning. It helps remove loose dirt, dust, and debris from the cushions' surface before you begin deep cleaning.
Remove the cushions from their covers and place them on a clean, flat surface. Use a handheld or vacuum with an upholstery attachment to gently remove any loose debris from the cushions' surface. Be sure to pay special attention to any crevices or seams where dirt may accumulate.
If you don't have access to a vacuum, you can also use a soft-bristled brush to loosen any dirt or debris on the surface of the cushion. Simply brush gently in one direction until all loose dirt has been removed.
It's important to note that if there are any stains or spills on your RV dinette cushions, you should address them before vacuuming. This will prevent dirt or debris from settling deeper into the fabric during cleaning.
STEP 3. Spot Testing the Cushions
Before diving into the cleaning process, performing a spot test on your RV dinette cushions is always a good idea. This will help you determine if the cleaning solution you plan to use will cause any damage or discoloration to the fabric.
To perform a spot test, simply choose an inconspicuous cushion area and apply a small amount of your chosen cleaning solution. Let it sit for a few minutes, then blot it with a clean cloth. Check the area for any discoloration or damage to the fabric.
If there is no damage or discoloration, you can clean the rest of the cushions using that solution. However, if there is any damage or discoloration, try another cleaning solution or take your cushions to a professional cleaner.
Performing a spot test may seem like an extra step, but it can save you from potentially ruining your RV dinette cushions. So take the time to do this critical step before cleaning.
Cleaning Solutions for Your RV Dinette Cushions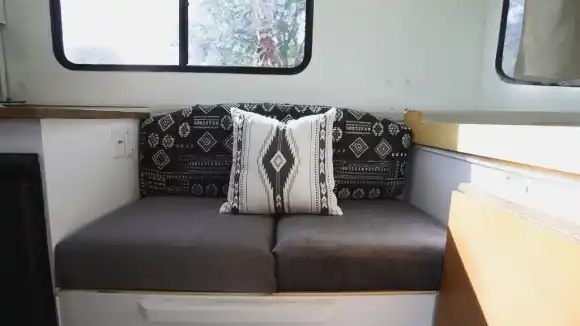 When cleaning RV dinette cushions, there are several cleaning solutions that you can use. You can make your homemade cleaning solution or use a commercial cleaner.
Homemade Solutions
When cleaning your RV dinette cushions, homemade solutions can be a cost-effective and environmentally friendly option. Here are three homemade solutions you can use to clean your RV dinette cushions:
#1 Vinegar Solution
Vinegar is a natural and effective cleaning agent that can clean RV dinette cushions. It is an excellent option for those who prefer using natural solutions. Vinegar has acidic properties that help to break down dirt, grime, and stains on the cushions.
Mix equal parts of white vinegar and water in a spray bottle to create a vinegar solution. Shake well before use. Spray the solution on the stained area of the cushion and let it sit for 10-15 minutes. Use a sponge or soft-bristled brush to scrub the area gently. Rinse with clean water and dry thoroughly.
It is important to note that vinegar's strong smell may linger on the cushions even after drying them. To eliminate the smell, add a few drops of essential oil to your solution or place a bowl of baking soda near the cushions as they dry.
#2 Baking Soda Solution
Baking soda is a versatile cleaning agent that can help to remove stains, odors, and dirt from RV dinette cushions. It is an excellent choice for those who prefer natural cleaning solutions.
To make a baking soda solution for cleaning the RV dinette cushions, you will need the following materials:
Baking soda
Warm water
Spray bottle
Here are the steps to follow when using a baking soda solution to clean your RV dinette cushions:
Mix the baking soda and warm water in a spray bottle. The ratio should be one tablespoon of baking soda per cup of warm water.
Shake the spray bottle well to ensure that the solution is properly mixed.
Spray the solution directly onto your RV dinette cushions' stained or dirty areas.
Use a soft-bristled brush to scrub the solution into the fabric gently. Be sure to work in circular motions and pay extra attention to any particularly stubborn stains.
Allow the baking soda solution to sit on your cushions for at least 30 minutes.
After 30 minutes, use a damp cloth to remove any excess baking soda solution from your cushions.
Let your RV dinette cushions air dry completely before replacing them back into your vehicle.
#3 Borax Solution
Borax Solution is another effective cleaning solution that can be used to clean RV dinette cushions. Borax is a natural mineral and an excellent cleaning agent that can remove tough stains, dirt, and odor from the cushions.
You will need 1/2 cup of borax powder, 1/4 cup of white vinegar, and two cups of warm water to make a borax solution. Mix all the ingredients in a spray bottle and shake well until the borax powder dissolves completely.
Before applying the borax solution to the cushions, remove them from the dinette and vacuum them thoroughly to remove any loose dirt or debris. Then spot test the solution on an inconspicuous area of the cushion to ensure it does not cause discoloration or damage.
Commercial Cleaner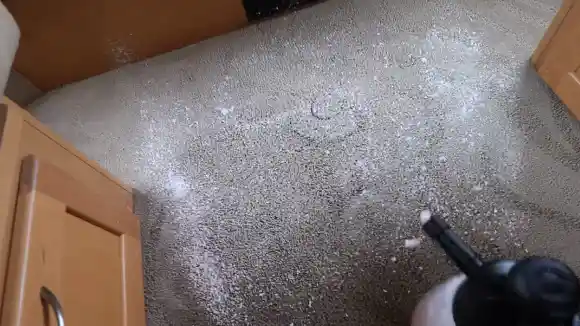 When cleaning your RV dinette cushions, you may want to consider using a commercial cleaner. These cleaners are specifically designed for upholstery and can effectively remove tough stains and dirt.
Before purchasing a commercial cleaner, read the label carefully and ensure it is safe for use on your cushion material. Some cleaners may contain harsh chemicals that can damage certain fabrics or cause discoloration.
When using a commercial cleaner, you must follow the instructions carefully. You must apply the cleaner directly to the cushion and then use a soft brush or sponge to work the solution into the fabric. After allowing the cleaner to sit for a few minutes, you can rinse it off with clean water and allow the cushion to air dry.
One popular commercial cleaner for upholstery is Folex Instant Carpet Spot Remover. This product is non-toxic and safe for use on most types of fabrics. It works by penetrating deep into the fibers of the cushion to lift out dirt and stains without leaving any residue behind.
Another option is Woolite Carpet and Upholstery Cleaner. This product is also safe for most fabrics and contains special ingredients that help protect against future stains.
While commercial cleaners can effectively remove tough stains, they are often more expensive than homemade solutions. Also, some people prefer not to use them due to concerns about chemicals or environmental impact.
Types of Deep Cleaning for RV Dinette Cushions
When deep cleaning RV cushions, a few options are available. The method you choose will depend on the type of cushion and the level of dirt or stains present.
Handwashing the Cushions
Handwashing is an effective way to clean your RV dinette cushions if you prefer not to use a machine. This method requires some elbow grease and patience, but it's worth the effort. Here are the steps you need to follow:
Fill a large basin or bathtub with warm water and add a mild detergent. You can use dish soap or laundry detergent, but avoid using bleach or fabric softener.
Remove the cushions from the RV dinette and place them in the water. Gently agitate them with your hands to loosen any dirt or stains.
Use a soft-bristled brush or sponge to scrub the cushions gently. Pay attention to any areas that seem dirty or stained.
Rinse the cushions thoroughly with clean water until all soap residue is removed.
Squeeze out excess water from each cushion by pressing down on them gently.
Hang each cushion outside on a clothesline or over a railing to air dry completely before replacing them in your RV dinette.
Once dry, fluff each cushion by hand or using a vacuum cleaner with an upholstery attachment.
Handwashing is an excellent option for cleaning delicate fabrics and materials that may be damaged by machine washing or drying methods. It allows you to control the agitation applied during cleaning, ensuring that your RV dinette cushions remain in good condition for years.
Machine Washing the Cushions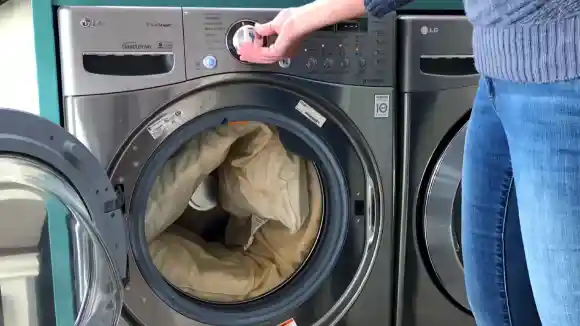 Machine washing the RV cushions is a quick and efficient way to clean them. However, it is important to note that not all RV cushions can be machine washed. Before proceeding with machine washing, check the care label on your cushions to ensure they are safe for this cleaning method.
If your cushions are suitable for machine washing, follow these steps:
Remove any loose dirt or debris from the cushions by vacuuming them using an upholstery attachment.
Pre-treat any stains on the cushions by applying a small amount of detergent directly onto the stain and rubbing it in gently with a soft-bristled brush.
Place the cushions into the washing machine along with a mild detergent. Use cold water and set the machine to a gentle setting.
Once the cycle has finished, remove the cushions from the machine and inspect them for any remaining stains or dirt.
If necessary, repeat steps 2-4 until you are satisfied with the cleanliness of your RV cushions.
To dry your freshly cleaned RV cushions, air-dry them by laying them flat on a clean surface in a well-ventilated area away from direct sunlight or heat sources. Alternatively, you may use a dryer set to low heat, but add some tennis balls or dryer balls to help fluff up the cushions during drying.
Machine washing can effectively clean RV dinette cushions quickly and efficiently, but always check care labels first and pre-treat any stains before washing. With proper care, your RV dinette will look great for years!
Can you Clean Non-Removable RV Dinette Seat Cushions?
Cleaning non-removable RV dinette seat cushions can be daunting. But it is possible with the right approach. The first step is to remove any visible dirt or debris from the cushions using a soft-bristled brush. Next, mix a small amount of detergent in water and dampen a sponge with this solution.
Gently scrub the cushions with the sponge, being careful not to saturate the foam with water. Finish by wiping down the cushions with a clean cloth and allowing them to air dry completely.
What is the Best Way to Disinfect RV dinette cushion foam?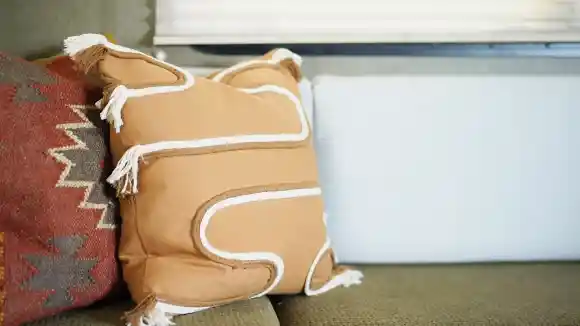 Disinfecting RV dinette cushion foam is essential to maintain a safe and hygienic environment in your RV. The most effective way to disinfect foam is to use a solution of rubbing alcohol and water. Mix one part rubbing alcohol with two parts water and apply this solution to the foam using a microfibre cloth.
Rub the solution into the foam using gentle circular motions, covering all areas of the cushion. Allow the foam to air dry completely before replacing it in the RV.
How do you clean non-washable RV dinette cushions?
Cleaning non-washable RV dinette cushions can be tricky, but a simple solution exists. Sprinkle baking soda over the cushions, making sure to cover all areas. Allow the baking soda to sit for an hour, then vacuum it away using a soft-bristled brush attachment.
Baking soda effectively absorbs odors and helps to remove dirt and debris from the cushions. You can use a solution of equal parts water and white vinegar for stubborn stains.
Apply the solution to the stain using a microfibre cloth and gently rub in a circular motion. Allow the cushion to air dry thoroughly before reusing.
Reinvigorate Your RV Dinette Cushions with Clever Cleaning Tips
Keeping your RV dinette cushions clean is important for hygiene reasons and helps maintain your vehicle's overall appearance. We have explored various methods and solutions for cleaning RV dinette cushions.
Whether you choose a homemade or commercial cleaner, it is essential to follow the instructions carefully to avoid damaging the material of your cushions. Handwashing or machine washing can be effective options depending on your cushion type.
By regularly cleaning your RV dinette cushions, you will not only keep them looking like new but also help to prolong their lifespan. With these tips and tricks, you can easily tackle any dirt or stains accumulating over time.