Last Updated on April 15, 2023
RVing is a great way to experience the outdoors and spend time with family and friends. Awning makes a comfortable place to eat, relax, and gather at night. Without any lighting, your awning can be a little dark and dreary.
Hanging patio lights on your camper awning brightens up your space and creates a special atmosphere. It can add an extra touch of magic to any evening. Perhaps you don't know how to hang lights on camper awning to get a festive look.
If you have never hung lights on an RV awning before, don't worry. It's not difficult. Here we share some ways of hanging lights on the camper awning for your reference.
How to Hang Lights on Camper Awning for a Festive Look?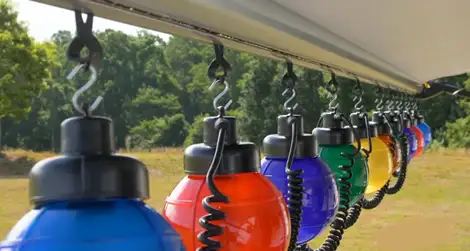 Hanging lights on your camper awning helps provide additional light and ambiance to your space. There are a few different ways that you can go about doing this, and the method that you choose will likely depend on the type of lights that you have and the look that you are going for.
Method 1: Using Zip Ties:
Decorate your RV with rope lights in no time using a few zip ties. All you need is a string of rope lights and some zip ties, and you can transform your RV into a cozy oasis.
Instructions:
Choose the perfect spot for your lights. You'll want to find a spot that's both functional and visually appealing. Consider where you'll be spending most of your time and what kind of mood you want to create.
Measure the length of the string of rope lights. This will help you determine how many zip ties you'll need.
Cut the zip ties to size. You'll want to leave about an inch of tail on each zip tie.
String the lights through the holes in the zip ties. Start at one end of the string of lights, and thread it through the hole in the first zip tie. Repeat this process until all of the lights are attached to the zip ties.
Attach the zip ties to the RV awning. Simply wrap the zip ties around the RV awning until they're secure. Check to see that the string of lights is evenly distributed, and adjust the zip ties as needed.
Method 2: Using Command Hooks:
Command hooks are damage-free way to hang lights on your RV awning. They're easy to use and can be removed without damaging your awning. You can install pole lights and solar lights using command hooks.
Instructions:
Choose a location for the LED lights. The best spot is usually along the edge of the awning, where they will be out of the way and not block the view.
Attach command hooks to the awning at evenly spaced intervals. Be sure to use the appropriate size hook for the weight of the lights.
Hang the LED lights from the command hooks. Make sure that each led awning light is securely attached and will not swing around or fall off. Plugin the lights and enjoy.
Method 3: Using Clips:
If you are looking for an awning light that can be hung with an awning clip, you have several options to choose from. LED awning lights are gaining popularity as they are energy-efficient and long-lasting. Solar-powered awning lights are also a good option, as they require no wiring or batteries.
Instructions for Globe Lights:
To hang your globe lights, you will need the lights, a ladder, and awning clips. You may also need additional tools depending on the type of camper awning you have. Before you begin, make sure that the area around your camper is clear of debris. Once you have everything you need, follow these steps:
Using the ladder, reach up and clip the lights onto the awning. If your awning has grommets, thread the string of lights through them.
Begin at the edge of your awning and work your way across. Make sure that the lights are evenly spaced.
You can now switch on the lights and relax under your beautifully lighted awning.
Instructions for Solar-powered Awning Lights:
There are three steps involved in hanging solar-powered awning lights on a camper awning with clips.
Clean the awning area where the clips will be placed. This will ensure that the adhesive on the back of the clips will adhere properly.
Measure the size of the frame and cut the lights to size. Remove the adhesive backing from the lights and install them on the awning. Position the lights evenly on the awning.
Use the clips to secure the light strands in place. The solar panel easily clips to a surface or can be staked into the ground.
Method 4: Using Clothespins:
Another option for hanging awning lights is to use clothespins. This method is simple and effective, and it doesn't require any special tools or materials. It simply requires string lights and clothespins.
Instructions:
Start by finding a spot on your awning where you want to hang the lights. If you're not sure where to start, try hanging them around the awning's border or along with one of the seams.
Once you've found the spot, use a tape measure to figure out how long you need the string of lights to be. Then, cut the string of lights to the appropriate length.
Next, take your clothespins and attach them to the string of lights at evenly spaced intervals.
Once all of the clothespins are in place, carefully lift the string of lights up and clip it onto the side of your awning. Make sure that the string is secure before letting go.
Finally, plug in the string of lights and enjoy.
Method 5: Using Rubber Slot Fixtures:
If you're looking for a more permanent solution, you can use rubber slot fixtures to hang your led awning lights. This method requires a few more tools and materials, but it's still relatively simple.
Instructions:
Start by measuring the length of the awning and cutting the lights to size. After cutting the lights, peel off their adhesive backing and attach them to the awning. Be sure to align the lights so that they are evenly spaced.
Use a drill to make holes in evenly spaced intervals in the awning. The size of the hole will depend on the size of the rubber slot fixture.
Thread the string of lights through the holes, and then insert the rubber slot fixtures. You should keep them snug so that the lights don't move around.
Connect the lights into an outlet, and you are ready to go.
Method 6: Use Strip Lights:
Many campers and RVs come equipped with an awning, providing shade and protection from the elements while you enjoy the great outdoors. But what if you want to add some extra light to your awning, this is the best rv awning light to clear the dark.
Instructions:
Choose your led strip light. There are many different types of tape lights on the market, so it's important to choose one that is specifically designed for use with an awning.
Clean the surface of the awning. This step is important to ensure that the led light strip will adhere.
Measure and cut your led strip to size. Most awnings are between 10 and 20 feet long, so you'll need to measure the length of your awning before cutting the tape light to size.
Once the strips are cut, peel off the backing and stick them onto the awning, being careful to avoid any creases or wrinkles. Press the light firmly into place.
Continue applying the strip light until you reach the other end of the awning. Make sure that the led light is evenly spaced and that there are no gaps between sections. Once the entire awning is covered, plug in the lights.
Different Types of Lights to Hang on Camper Awning: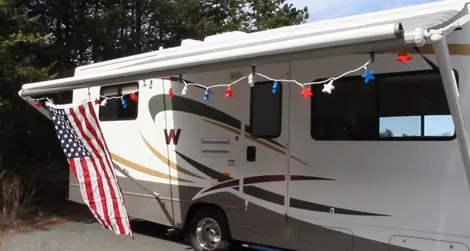 There are many different kinds of lights available to hang on your camper awning. You can choose from traditional LED string lights, LED rope lights, globe lights, pole lights, and solar lights. Each type of light has its own benefits and drawbacks.
LED String Lights:
LED String lights are frequently used for RV awnings, as they are relatively inexpensive and easy to set up. When choosing these led rv awning lights, you will want to make sure that they are rated for outdoor use and that they are the correct voltage for your RV (typically 12 volts). If you've never done it before, the process can seem a bit daunting.
You will find different types of string lights, including:
Bulb string lights
Colored bulb string lights
Twinkle star string lights
Net lights
Rope Lights:
Rope lights are a popular choice for lighting up campers and RV awnings. Unlike traditional led light, rope light is encased in plastic tubing which makes them more durable and weather-resistant.
These camper awning lights are also often far more bright than string lights, making them ideal for providing dream lighting in an outdoor space. Some of the different types of rope lights include:
Blue and white rope light
White outdoor rope lights
Multi-colored led rope lights
Globe Lights:
Many RV awnings are equipped with globe lights, which add a touch of ambiance and make it possible to enjoy the outdoors even after dark. RV awning globe lights come in a variety of shapes and sizes, and some even offer color-changing options.
When choosing these lights for your RV awning, it is important to consider the amount of RV light you need, as well as the level of durability you require. With so many options to choose from, there is sure to be a globe light that will perfectly suit your needs.
Pole Lights:
If you want something a little more substantial than an led string light, you may want to consider a pole light. Pole lights are larger and brighter than string lights, making them great for providing general lighting around your RV awning. They can be mounted directly to the side of your RV or placed on the ground next to your awning.
Solar Lights:
Solar powered lights are a great way to do this. They allow you to have light without having to worry about being near an electrical outlet. Using a solar light is also very easy to install.
You can simply put them on your camper awning and let them do their job. The lights will charge during the day and then provide light at night. This allows you to camp and still be able to enjoy the benefits of modern technology.
Solar-powered string lights are easy to hang and provide a festive look. Solar rope lights are another option that can be used to outline the awning or provide accent lighting. Both types of lights typically come with a solar panel that can be mounted on the roof of the camper, making them easy to install and maintain.
FAQs:
Q: How Do You Hang Lights On A Metal Awning?
Magnetic clips are a great way to hang lights on a metal awning. They are easy to use and don't require any holes to be drilled. Simply atta ch the clips to the awning and then hang the lights from the clips.
Q: How Do You Hang Fairy Lights On Tent?
Zip ties are an easy and versatile way to hang fairy lights in a tent. Simply use zip ties to secure the string of lights to the tent's ceiling. You can also use velcro strips or command hooks to adhere the lights directly to the tent fabric.
Q: How Do You Hang Patio Lights On An Aluminum Awning?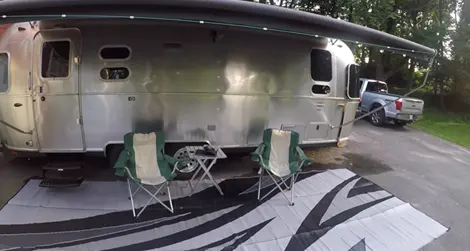 If you have an aluminum awning, you may be wondering if you can hang patio lights from it. The good news is that hooks designed for use with aluminum awnings are readily available. These hooks can be attached to the awning support bar and spaced at regular intervals along the length of the awning.
Q: How Do You Hang Outdoor Lights Without Nails?
Adhesive hooks are specifically designed to be used with gutters, and they can hold a fair amount of weight. If you're worried about the glue damaging your gutters or siding, you can always use clear tape to secure the hooks in place.
Conclusion:
Hanging lights on your RV awning is a simple and easy way to add some extra illumination to your campsite. With a little planning and the right materials, you can have your own personal light show in no time. Look for tape lights that are waterproof and heat-resistant, as well as UL listed for safety.
This article showed you how to hang lights on an RV awning to enlighten your campsite. If you follow these steps, you'll have a beautiful display of light in no time. Thanks for reading. Until next time, happy camping.
Do you have any tips or tricks for hanging lights on an RV awning? Share them with us in the comments below.