Last Updated on April 20, 2023
Regarding RV toilets, two big names stand out: Thetford and Dometic. Both brands offer a range of high-quality options that cater to the specific needs of RV enthusiasts, but choosing between the two can take time and effort.
We've compiled this comprehensive guide comparing Thetford vs. Dometic RV toilets. Thetford uses a high-grade plastic material, making their toilets lightweight and durable. Alternatively, Dometic's toilets are made of scratch and stain-resistant ceramic material, providing a durable option.
In today's guide, we'll cover everything from design and functionality to pricing and customer support, so you can decide which brand is right for you. Let's explore the differences between Thetford and Dometic RV toilets and find your perfect match.
Thetford VS Dometic RV Toilet: A Comprehensive Comparison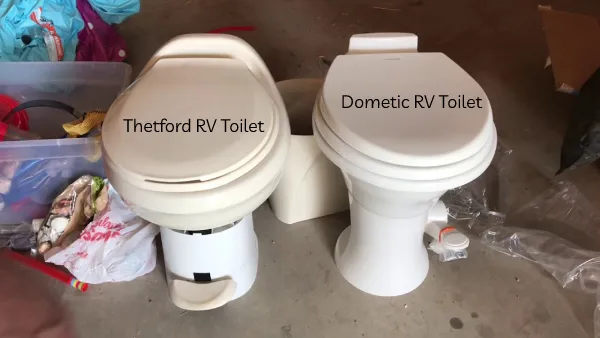 Choosing the right RV toilet makes all the difference in comfort and convenience on your trip. Two popular brands that offer a range of RV toilets are Thetford and Dometic.
Here are some things that make Thetford different from Dometic:
Types of RV Toilets Offered by Both Brands
Both Thetford and Dometic offer a variety of RV toilets to meet the needs and preferences of different users. Thetford provides a range of portable, cassette, and permanent RV toilets in different sizes and designs. Their most popular models include the Aqua Magic V Toilet, Aqua-Magic Style II, and Aqua-Magic Residential Toilet.
Alternatively, Dometic offers a wide selection of RV toilets categorized into three main types: gravity flush, macerator, and composting. Their gravity flush models include the 320 series and 310 series, while their macerator models comprise the MasterFlush 7640 series.
Dometic's composting toilet – Nature's Head Self-Contained Composting Toilet is a great choice for those looking for an eco-friendly option.
Price Range and Warranty Comparison
Comparing Thetford and Dometic RV toilets involves considering their price range and warranty. Thetford provides a diverse range of RV toilets that cater to different budget levels.
For instance, the Porta Potti Curve Portable Toilet is their most economical option, costing less than 100 dollars. On the other hand, their high-end product is the Tecma Silence Plus 2G Macerating Toilet, which can cost up to 1,500 dollars.
Similarly, Dometic offers a variety of RV toilet options with different price ranges. The 300 Series, Standard Height Toilet, is the most affordable option from Dometic, usually priced around 150 dollars.
Dometic's high-end product is the MasterFlush 7640 Macerator Toilet, which can cost over 1,000 dollars. The price and warranty offered by both brands should be considered when comparing Thetford and Dometic toilets for RVs.
In terms of warranty offerings, both Thetford and Dometic provide limited warranties on their products. Thetford's warranty ranges from one to three years, depending on the product, while Dometic's warranty typically lasts two years.
Design and Features Comparison
Size and weight are important considerations when choosing an RV toilet. Thetford offers a range of sizes from compact to standard, while Dometic's toilets are generally larger. But Dometic's toilets are made with lightweight materials such as plastic and ceramic, making them easy to install and move around.
Material quality is another factor to consider. Both brands use high-quality materials such as porcelain and ceramic for their bowls. However, Thetford's Aqua-Magic V toilet has a bowl made of plastic which may not be as durable as other materials.
Size and Weight Comparison
When selecting the right RV toilet, size and weight are important factors. Both Thetford and Dometic offer a range of sizes and weights for their RV toilets, so choosing one that suits your needs is essential.
Thetford offers a variety of sizes for their toilets, ranging from compact models like the Porta Potti Curve with a weight of 12.79 pounds to larger models like the Aqua-Magic V with a weight of 37.6 pounds.
As a counterpoint, Dometic offers a wider range of sizes for their RV toilets, from the smaller 2.6-gallon portable toilet weighing just 8.5 pounds up to larger models like the MasterFlush 7640. The MasterFlush 7640 is designed for larger RVs and boats and features a large bowl size and a powerful flushing system.
When considering size and weight, it's important to remember that larger models may be more comfortable but may also take up more space in your RV bathroom. Also, lighter models may be easier to move around but may not have as many features as heavier models.
Material Quality and Durability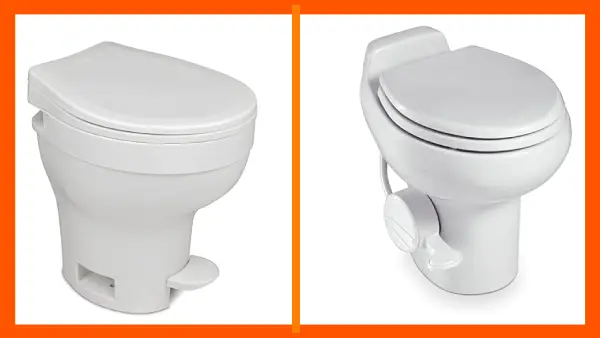 Material durability and quality are crucial when choosing the right RV toilet. Both offer a range of materials for their RV toilets, including plastic and ceramic.
Thetford's Aqua-Magic V RV Toilet is made of high-grade, lightweight plastic yet durable. It features a textured lid that resists scratches and scuffs and a full-size residential seat for added comfort. The bowl is also made of plastic, which makes it easy to clean and maintain.
Meanwhile, Dometic's 310 Series RV Toilet boasts a ceramic bowl that is not only durable but also provides a more home-like feel. The ceramic material is resistant to scratches and stains, making it easier to keep clean. The toilet seat is made of plastic for added comfort.
Regarding overall durability, both Thetford and Dometic have received positive customer reviews. But, some users have reported issues with the flushing mechanism on certain models from both brands.
Bowl Shape, Flushing System, and Water Usage
Regarding RV toilets, the bowl shape, flushing, and water usage are important factors. Thetford and Dometic offer various toilet models with different features in these areas.
Bowl Shape: Thetford offers toilets with a round bowl shape, while Dometic offers both round and elongated bowl shapes. The elongated bowl shape may be more comfortable for some people but it also takes up more space in the RV bathroom.
Flushing System: Thetford and Dometic offer gravity and macerating flush systems. Gravity flush rv toilet systems use gravity to move the waste from the bowl to the holding tank, while macerating flush systems use a motor to grind up waste before moving it to the holding tank.
Water Usage: Thetford toilets typically use less water per flush than Dometic toilets. Thetford's Aqua-Magic V model uses just 0.5 gallons of water per flush, while Dometic's 320 series uses 0.7 gallons. But some Dometic models have adjustable water levels, which can help reduce overall water usage.
Odor Control Features
When it comes to RV toilets, odor control is a crucial feature that can make or break the overall experience. Both Thetford and Dometic come with various odor control features to ensure a pleasant and hygienic environment inside your RV.
Thetford offers its Aqua-Magic V and Aqua-Magic Style II models with an antimicrobial seat that inhibits the growth of odor-causing bacteria. Also, their toilets have a seal to keep odors from escaping the holding tank.
On the other hand, Dometic's 970 Series Portable Toilet has a powerful odor control system that uses chemicals and ventilation to eliminate unpleasant smells. Their toilet also features a leak-proof design that prevents unwanted odors from escaping.
Installation Process Comparison
Regarding the installation process, both Thetford and Dometic RV toilets are designed to be compatible with most RV models. However, some differences should be considered before making a purchase.
Thetford toilets have a universal floor flange and mounting bolts, making them easy to install in most RVs. Some models also come with a flexible water hose for easy connection to the water supply.
Dometic toilets may also have a common floor flange and screws for easy installation. They also offer an optional riser kit for their toilets. But depending on the specific model and RV setup, Dometic toilets may require extra parts, such as a vacuum breaker or waterline adapter.
Compatibility with Different RV Models
When choosing an RV toilet, compatibility with your specific RV model is a crucial factor to consider. Thetford and Dometic provide a range of toilets compatible with most RV models, but some differences exist.
Thetford offers a broader range of toilet options than Dometic, meaning they have more models catering to different RV types. Their website also has a compatibility chart that lets you easily determine which model will fit your specific RV.
Conversely, Dometic has toilets specifically designed for certain RVs, such as Class A or Class C motorhomes. This means that if you own one of these specific types of vehicles, a Dometic toilet model may be better suited for your needs.
Required Tools and Additional Parts for Installation
Thetford and Dometic RV toilets come with installation instructions, but there may be some differences in the required tools and parts.
Thetford RV toilets typically require a few essential tools for installation, such as a wrench and screwdriver. Some models may also require a sealant or adhesive for securing the toilet to the floor.
Also, Thetford offers a range of replacement parts and stuff for their toilets, including seals, valves, and flush pedals. These can be purchased separately if needed.
Dometic RV toilets also require essential tools for installation. But some models may require additional parts, such as mounting brackets or flange seals. Dometic also offers replacement parts and accessories for their toilets, including valves, seals, and spray heads.
Thetford RV Toilets: Advantages and Disadvantages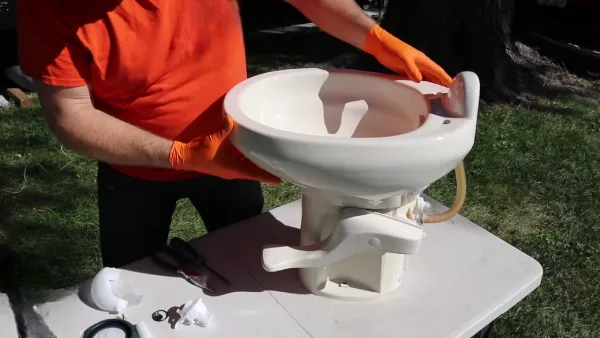 Thetford RV toilets have been popular among RV owners for many years. Customers appreciate the brand's innovative features and high-quality materials. However, there are also some drawbacks to Thetford toilets that customers have reported in their reviews.
Advantages:
One of the main advantages of Thetford RV toilets is their efficient flushing system. Many customers have praised the brand's powerful flush, effectively cleaning the bowl with minimal water usage.
Thetford toilets also come equipped with a water-saving feature that allows users to control their water usage, which is especially important when camping in areas with limited water resources.
Another advantage of Thetford RV toilets is their odor control system. The brand uses a proprietary technology called Aqua-Kem, which breaks down waste and eliminates odors, ensuring your RV stays fresh and clean even after extended use.
Disadvantages:
On the downside, some customers find issues with Thetford's durability over time. Some reviewers have noted that the plastic components of the toilet can crack or break easily, requiring costly repairs or replacements.
Dometic RV Toilets: Advantages and Disadvantages
Dometic RV toilets have received mixed reviews from customers. On the positive side, many customers appreciate the sleek design and comfortable seating of Dometic toilets. The company's ceramic bowls are also highly rated for their durability and resistance to scratches and stains.
However, some customers have reported issues with the Dometic toilets' flushing system. Some models have been known to clog easily or require frequent maintenance to keep the flushing mechanism functioning properly. Also, a few customers have reported problems with leaks or other malfunctions.
Factors to Consider before Making a Decision
When choosing between Thetford and Dometic RV toilets, several factors must be considered, such as:
Toilet Size and Weight
One crucial factor to consider is the size and weight of the toilet. Thetford offers lightweight options, while Dometic has heavier options. If you have limited space in your RV or prefer a lighter option for easier installation and maintenance, Thetford may be the better choice.
Material Quality and Durability
Another factor to consider is material quality and durability. Thetford uses high-quality plastic materials for their toilets, while Dometic uses ceramic. While ceramic may be more durable in the long run, plastic can be more resistant to cracks and leaks over time.
Compatibility
It is also essential to consider whether the toilet is compatible with the model of your RV. Ensure your toilet is designed to fit properly in your RV and will not require additional modifications or parts.
Price Range
Price is also an important consideration. While both offer a range of affordable options, some models may be more expensive than others. Also, it's crucial to compare warranty information for each brand to ensure that you are getting the best outcome for your money.
Where are Dometic RV toilets made?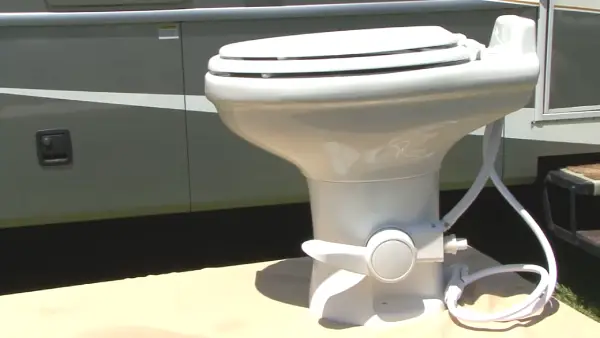 Dometic is a well-known brand that manufactures various types of RV equipment, including RV toilets. The company is located within the United States and has been in the industry for several decades, producing high-quality products that guarantee reliability and convenience.
These RV toilets are made in the United States, ensuring that they meet all the necessary requirements and regulations of the Department of Transportation. This American-made toilet brand offers a wide range of designs, sizes, and features that cater to the needs of all RV enthusiasts.
With their excellent reputation and commitment to customer satisfaction, Dometic is a reliable brand for RV toilets that you can trust.
Where are Thetford RV toilets made?
Thetford is a company that specializes in producing RV and marine-related products, including RV toilets. The company is based in the Netherlands and have been in the industry for more than 50 years, establishing a reputable name for itself.
These RV toilets are carefully and expertly crafted in their Dutch factories, using the finest materials and innovative techniques to ensure their products' quality and durability. Thetford has a wide range of RV toilets for RV enthusiasts, catering to different preferences, including design, features, and sizes.
With Thetford's years of experience and expertise, you can be confident that their RV toilets will deliver optimal performance and convenience.
Can you replace a Thetford toilet with a Dometic?
Both Thetford and Dometic are leading brands in the RV industry that produce high-quality RV toilets. Fortunately, Thetford and Dometic toilets are interchangeable as both brands offer newer plastic RV toilets that perform exceptionally and offer excellent value for money.
When choosing to replace your RV toilet with a different brand without changing the floor flange or footprint, choosing between Thetford and Dometic is the buyer's preference.
Both provide similar features, designs, and services that cater to the needs and preferences of their customers. It's important to note that before replacing your RV toilet, ensure the compatibility of the new toilet with the existing plumbing inside your RV to prevent any issues.
Trust Your Preferences: Find an RV Toilet that Suits Your Preferences
RV toilets can make or break your camping experience. Thetford and Dometic are renowned industry brands offering high-quality options with unique features.
Thetford's lightweight and easy-install toilets are suitable for convenience and efficiency. Meanwhile, Dometic's sturdier and more robust toilets are ideal for those who crave durability and longevity that can withstand rough outdoor conditions.
Most importantly, the right RV toilet depends on your preferences and needs. Regardless of which brand you choose, find an option that meets your RV requirements and provides you with the comfort and convenience you deserve.