Last Updated on April 17, 2023
It is no secret that maintaining proper hygiene is essential for our health and those around us. One area where this is especially true is in the bathroom.
While toilets are designed to be flushed after each use, sometimes things don't always go according to plan. This can lead to unpleasant odors and a build-up of bacteria.
RV toilets have a built-in sprayer that helps to keep the bowl clean and sanitary. This feature is not only convenient, but it also helps to ensure that your RV toilet is as hygienic as possible.
Why Do Rv Toilets Have Sprayers: Some Reasons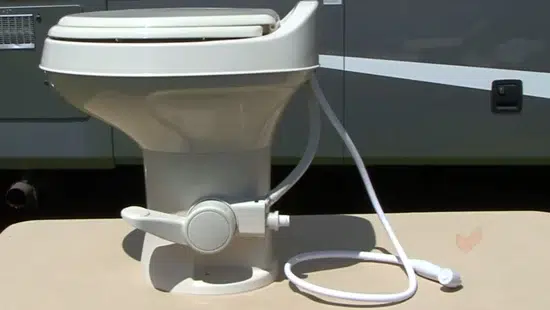 RV toilet sprayers clean RV toilet bowls with a powerful but gentle stream of water. Spray water on the bowl every time to remove waste and prevent bacteria. RV toilet sprayers are a must-have tool for comfortable travel.
More Sanitary Experience Than Traditional Toilets
RV toilets use a sprayer to deliver a stream of water directly to the waste, flushing it away cleanly and efficiently. The sprayer can be used to rinse away any residual waste that may be clinging to the sides of the bowl. RV toilets offer a much cleaner and more sanitary experience than traditional toilets.
The sprayer can be used to flush the toilet if it becomes clogged. This is a much more effective way to clear a blockage than a plunger. RV toilets with sprayers offer a more hygienic and convenient experience for all types of travelers.
Reduce the Spread Of Germs & Keep Smelling Fresh
Several reasons can be attributed to the inclusion of sprayers on RV toilets. Your RV will smell fresher if the sprayers are used after each use, as they prevent the spread of germs and keep your toilet clean.
The sprayer allows you to flush the toilet without wasting much water because it can use less than one gallon of water. This is because most RV toilets are limited in water capacity, which is why it is so common.
Waste that has built up on the sides of the toilet bowl can be cleaned with the sprayers. Being challenging to remove without a sprayer, this build-up can also cause unsanitary conditions and odors. Many benefits are provided by RV toilets with sprayers that make them worth the extra cost.
Avoid Using Harsh Chemicals to Clean the Toilet
RV toilet sprayer attachments have been designed specifically for RV toilets so that cleaners can be more effective and efficient in their cleaning routines. When you use a sprayer to clean specific areas, you do not need to use harsh chemicals that would damage the environment.
After the job has been completed using the sprayer, it is possible to remove any residual waste that remains after the job has been completed by using the sprayer. Taking care of the toilet bowl regularly is essential since this is where waste often comes in contact with it.
When you use the sprayer attachment on your RV toilet, you can keep it clean without harsh chemicals, making it easier to maintain your RV toilet.
Easy Control
Almost all RV toilets come with a sprayer feature, considered one of the most popular features among RV travelers due to its convenience. A sprayer makes it quick and easy to clean the bowl after each use, which makes it a lot easier and quicker to clean the bowl.
It is particularly important to consider the water conditions when traveling in areas that aren't ideal when it comes to water. A sprayer can also help you conserve water while on the road, which you should consider when using one.
The sprayer not only ensures that your hands are cleaned after using the toilet, but it can also ensure that germs are not spread after use. Travelers are attracted to RV toilets for various reasons, including the fact that sprayers come with them.
Reduce the Time Needed For RV Toilet Cleaning
It is generally agreed that less is more when it comes to cleaning RV toilets, which is something that you should keep in mind. Having RV toilets with sprayers is an incredibly helpful feature since it is unnecessary to spend more time cleaning than is needed, which is why it is so helpful to have RV toilets with sprayers.
Having sprayers on your toilets makes cleaning them more straightforward, as they can be done much faster, reducing the time it takes to clean them. There is also the possibility of reducing odors in the bathroom by preventing waste from accumulating in the bowl. Any RV toilets equipped with sprayers will considerably improve over one that does not.
Sprayer Feature While Traveling
There are several factors contributing to this. Among them is the available sprayer feature. The purpose of this device is to clean up after using the toilet after each use after using the toilet. The bowl is fitted with a handle that can be found on the side.
Keeping the toilet clean will ensure it is ready for the following user and prevent any waste from being left behind. Using this method will also prevent you from touching anything with your bare hands so that you do not have to touch anything.
Besides using the sprayer for cleaning the toilet brush, it can also be used for rinsing it off after use, which helps to keep the brush in good condition. It is evident that the sprayer makes RV toilets more user-friendly and convenient because it makes them more convenient and less complicated to use, as well as making them more convenient.
Why Sprayers Essential To Rv Toilets?
The sprayer on an RV toilet is one of the essential features of the toilet. The sprayers in the toilets are vital to the proper operation of toilets, but they are often overlooked as an essential part of the system.
The bowl can be easily cleaned with the sprayer's help, making the cleaning process more manageable. The action of breaking up waste also prevents clogs from forming due to the action of breaking up waste.
When you have flushed the toilet, you can also use a sprayer to rinse it after you have flushed it, removing all residual waste. When an RV toilet is not equipped with a sprayer, it would quickly become unusable if it were not equipped with one.
There are several reasons why you should ensure the sprayer on your RV toilet is functioning so you can use it comfortably.
Eliminate Any Rv Toilet Odor
It can effectively remove odors from toilets through sprayers that spray water into them. There is a tendency for odors to accumulate quickly in RVs with small spaces because they tend to have small areas.
How to Use RV Toilet Sprayers?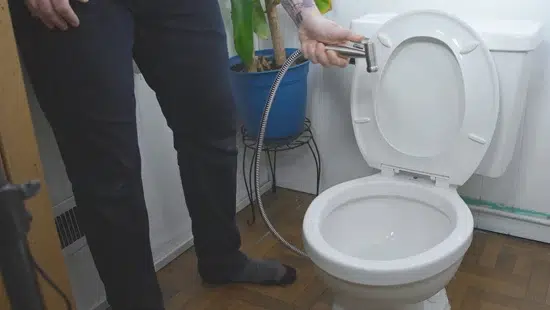 An RV toilet sprayer might be a great idea for many reasons. Every RV owner should have an RV toilet sprayer and a black water tank flusher. These devices can flush out your RV's black water tank quickly.
Dump stations are usually available in RV parks. You can flush much easier and more conveniently with a flusher. This will help to maintain the cleanliness of your tank and prevent build-up.
RV toilet flushers come in a few different types, but they all work the same. RV toilet sprays are a great way to keep your RV clean and odor-free. Here's a step-by-step guide on how to use RV toilet sprayers:
Ensure the holding tank is empty before using the RV toilet sprayer. If it isn't, then empty it first.
If the RV water holding tank is not empty
Simply attach the hose to your tank's outlet valve and open the valve. Then, turn on the water supply and let the device work. When the tank is full, close the valve and disconnect the hose. It is easier than dumping your tanks at a dump station. This helps to keep your black water tank clean and free of build-up.
Add some water to the bowl. The amount of water you'll need will depend on the size of the bowl. Around 1 quart (0.95 L) of water for a small bowl should be enough. You may need up to 2 gallons (7.6 L) for a large bowl.
Aim the nozzle of the RV toilet sprayer into the toilet bowl and squeeze the trigger. Continue spraying until the bowl is full of water.
Once the bowl is filled with water, place the RV toilet sprayer nozzle into the bowl and turn on the water. The amount of time you let the water run will depend on how dirty the bowl is. You may need to let the water run in a dirty bowl for a minute or two. For a less dirty bowl, around 30 seconds should be enough.
After letting the water run, close the valve and disconnect the hose from the freshwater supply. Then, use a toilet brush to scrub any remaining dirt or debris.
Finally, flush the toilet like usual to rinse away everything, including any soap residue, and ensure that the bowl is clean.
If you don't flush your tank regularly, solids can start to build up on the sides of the tank, making it difficult to empty. This can lead to odors and potentially even clogs. By using a flusher every time you empty your tanks, you can help prevent these problems from occurring.
An Overview of Our Learnings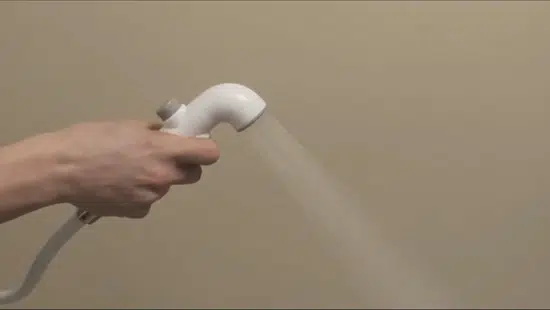 There have been several useful and practical reasons why RV toilet sprayers are used in the RV industry, and some of them have been discussed above.
In this article, we have tried to provide an easy and effective answer to your question regarding "why do RV toilets have sprayers?" The right approach for you will depend on the type of RV you own and several other factors.
After spending a few minutes on the internet, you should know what RV sprayers are and how to use them in no time.