Last Updated on September 25, 2023
Anyone enthusiastic about long outdoor adventures will undoubtedly think about owning an RV. It provides a comfortable home away from home. But that's only true if you include the right equipment to make life comfy. A perfect example is a dehumidifier for RV.
While RVs are pretty convenient, they are not as spacious as an ordinary home setup. They contain small and confined spaces. So, RVs can get a bit stuffy and have a lot of humidity buildup.
Sometimes opening a window is enough to ease up things. But what if there's a rainstorm outside? Even more, what if you are in the middle of winter? The entire trailer will possibly get flooded, or you will freeze.
You can invest in the best RV dehumidifier to help you maintain the vehicle into livable conditions. It sucks down all the vapor and ensures that you remain comfortable.
In this article, we've presented you with a rundown of some of the most exciting dehumidifiers that you may need to consider.
Best RV Dehumidifier in 2021
Picking the right one from many options seems quite overwhelming. This list was made considering various aspects that different RVs have, which will make it very easy to pick the perfect one for your vehicle.
1. Pro Breeze Electric Mini Dehumidifier, 1200 Cubic Feet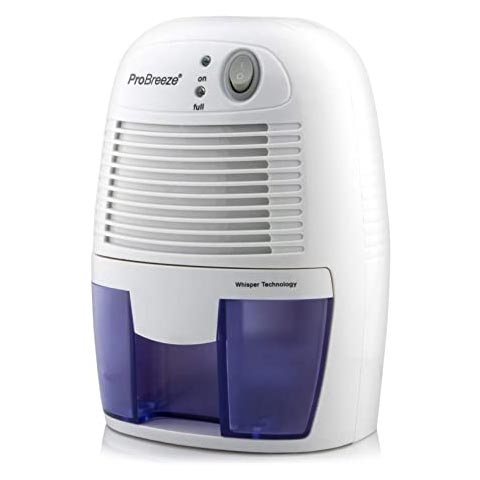 The first one on the list is for those who are looking for a portable dehumidifier for their RV. Pro Breeze portable dehumidifier can remove up to 9 ounces of water each day. Its 16 ounces tank is ideal for 1200 cubic feet rooms without any issue.
When the tank is full, the device will shut off by its own and blink LED light to tell you that it's time to empty the tank. So, there is no need to check when it's time to empty it manually. Although it's compact and lightweight, it has very high-efficiency levels and output.
With this dehumidifier inside the cabin, you will be able to get rid of accumulated dampness and moisture. You can get rid of 9 ounces of moisture every day. Its portability allows you to place it anywhere inside the RV without effecting the original arrangement.
Besides, the dehumidifier doesn't take up a lot of space, as well. You can easily slide the device against any wall or surface. This dehumidifier operates quietly compared to other portable ones. As it features efficient built-in thermoelectric cooling technology, you don't have to tolerate any sound of the compressor.
You will not even notice its whisper-quiet operation inside your RV, which is a huge plus point for those who love a quiet environment. Besides using it in the RV, you can also use it in your bedroom, office, and bathroom without much trouble.
And of course, this dehumidifier will perform great in the kitchen, caravan, closet, and garage as well. Like most top grade portable dehumidifiers, it operates optimally between 59o to 86o F. However, the device cannot work when the temperature is below 41o F.
---
2. Eva-Dry-Edv 1000 Electric Petite Dehumidifier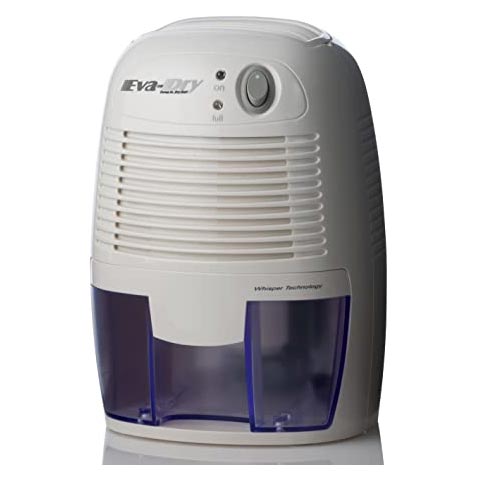 This one from Eva-Dry is one of the most portable and lightest thermoelectric dehumidifiers on this list of RV dehumidifier reviews. Its portability makes it very convenient to carry and transport it from one place to another. The unit combats moisture within the range of up to 1100 cubic feet.
It effectively absorbs 8 ounces of moisture per day at 86o F temperature. If you have very limited space in your RV or room, this might be the perfect one to fight moisture.
When it's about running an electric device in the RV, most owners prefer choosing energy-efficient appliances to lower power consumption. This Eva-Dry dehumidifier draws only 22 watts, which makes it run at low power. So, it saves electricity bills and at the same time helps the environment as well.
The device extracts all moisture from the atmosphere and store in the spill-proof reservoir. It removes the major moisture and makes the atmosphere free of mold and mildew.
Moisture, mold, and mildew cause unusual odors that can be very disturbing for the people inside an RV. This dehumidifier also prevents bad odors by eliminating bacteria from the atmosphere. The included reservoir absorbs musty odors trapped in the atmosphere and battles fungus as well.
Furthermore, it is made of high-quality material, which makes it very durable. So, if everything goes well, the device can serve you for years without having any issue. Also, the design is very stylish. It will easily fit any interior and enhance the beauty of the room.
All you need is to plug and turn the device on to start dehumidifying. When the collection bucket is full of moistures and water, it will turn on the LED light indicator, and the machine will turn off automatically.
Most portable dehumidifiers produce 53.2 dB of noise, but the whisper technology in this one reduces the noise by 2.3 dB. So, it will not make any disturbance while you sleep.
---
3. hOmeLabs Small Space Dehumidifier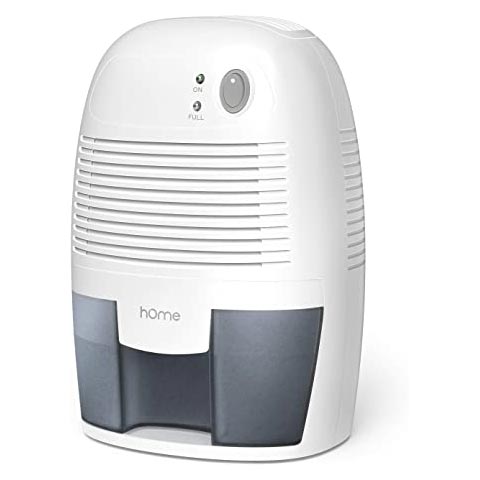 This small and compact hOmeLabs dehumidifier is able to collect up to 9 ounces of moisture from small rooms and spaces per day. As the device is a mini and portable dehumidifier, you cannot expect much from it. It's a very convenient option for closets, showers, bathrooms, and recreational vehicles.
The good thing is, it performs great at getting rid of the moisture in the room. It efficiently eliminates moisture within the 150 sq ft range. Not only does it combats moisture, but it also leaves no room for mold, mildew, and dust mites. So, the cabin of your RV will be moisture-free and at the same time, protected from allergens.
Compact dehumidifiers produce quite less noise when it operates. This isn't an exception with this one, as well. Its low noise thermoelectric Peltier module produces the least level of noise possible.
Also, the machine is very energy efficient. It requires only 25w to be able to operate properly. Besides, the dehumidifier comes with ETL certified adapter that prevents overheating and ensures safety. With that being said, the device not only offers excellent moisture eliminating performance but also protection for the user as well.
When the tank is full, this mini dehumidifier will shut off automatically and turn on the LED indicator telling you it's time to empty the tank. There is a removable grill on the top of the humidifier that makes it far easy to clean.
As I mentioned before, it is portable and lightweight. The humidifier is very convenient to carry from one place to another, and the compact design will suit your RV no matter where you place it. Although it doesn't have tons of functions, it's extremely easy to operate and manage.
---
4. Frigidaire 70 Pint White Dehumidifier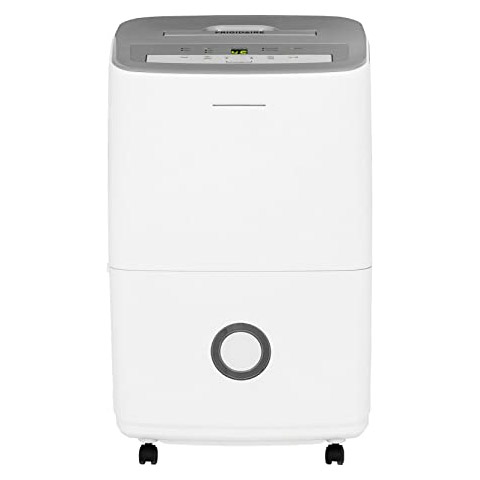 Dehumidify the atmosphere and protect your home or RV from mold and mildew while saving energy with this dehumidifier. This one from Frigidaire also eliminates the bacteria within the air that makes breathing difficult inside the room or your RV cabin.
If your room or RV has high humid levels, it will become difficult to live comfortably. People buy an RV so that they can make tours comfortably. Humidity levels inside the cabin can highly affect your comfortable RV living.
To avoid such a situation, you can pick this dehumidifier to fight against moisture as well as mold and mildew in walls and other damp spots. Besides, its bacteria eliminating power ensures that the indoor air remains fresh, clean, and healthy to breathe.
Its versatility allows you to use it in a bedroom, bathroom, shower room, or even in the kitchen room.
Although Frigidaire dehumidifier performs greatly at knocking off moisture, it has an average level of energy efficiency. As soon as it reduces the moisture to its minimum, your air conditioning system will require less power to keep the indoor atmosphere cool. So, this dehumidifier can save your money as well.
The dehumidifier can remove up to 70 pints of moisture per day. So, you can rely on it no matter how humid the air is. The device can continuously operate if you place it near a suitable drain to collect the water. This is something you don't get with portable ones as they come with tanks of a fixed capacity.
So, with this one, you can continuously control the humidity of your room or RV without worrying about emptying the tank.
However, with its electric control, you can set a 24-hour timer that can automatically turn the dehumidifier on or off. Its humidity control feature allows you to control the range of the space you want to dehumidify. Also, there is a control lock to prevent kids from changing the functions.
Therefore, its moisture removal efficiency, drainage system, and convenient functions make it the best RV dehumidifier without giving a second thought.
---
5. TOSOT 50 Pint Dehumidifier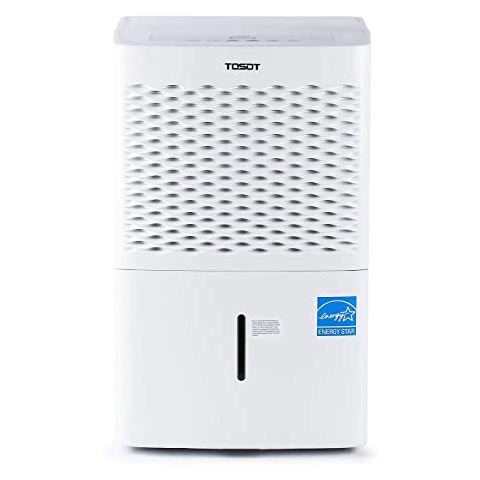 The next product is from TOSOT, which provides an effective dehumidifying solution within 3000 sq ft of range. You can use it in your RV and midsize room, bathroom, and kitchen.
This 50-pint unit can remove up to 6 gallons of moisture from the room you place it. Emptying the water tank is easy; it requires a gravity drain hose connection to a floor drain or sump pump. So, you don't need to empty the tank on a regular basis manually.
However, if you don't have any drainage system, you can manually empty the bucket as well. Carrying its bucket is very convenient as it has swivel handle and spill-resistant baffles to make things easy. If you run the device continuously, you will need to empty the bucket every 5 hours.
By removing the moisture from your RV, it will provide a comfortable environment for people living inside it. A great performing dehumidifier like this one can increase the lifespan of your RV furniture, appliances, and other things as well.
Moreover, this device comes with Energy-Star ratings, which is good for both the environment and your wallet. It will consume relatively less electricity and save utility bills to some extent.
With a noise level of 48 dB, it operates very quietly compared to other conventional ones. You can hardly tell whether the device is running or not. This is something great for noise-sensitive individuals who need a really quiet environment to have sound sleep during nights.
If there is any power outage when you are traveling, this dehumidifier will revert back to the previous settings once the power is back.
For maintaining efficient dehumidifying, you need to clean the air filter. After 250 hours of operation, there is a light that will remind you of cleaning it. You can easily clean the filter using warm water and mild detergent. Be sure to make it completely dry before reinstalling.
You will hardly find any other product offering such coverage, moisture removing performance, and functional ability in this review.
---
6. SEAVON Electric Mini Dehumidifier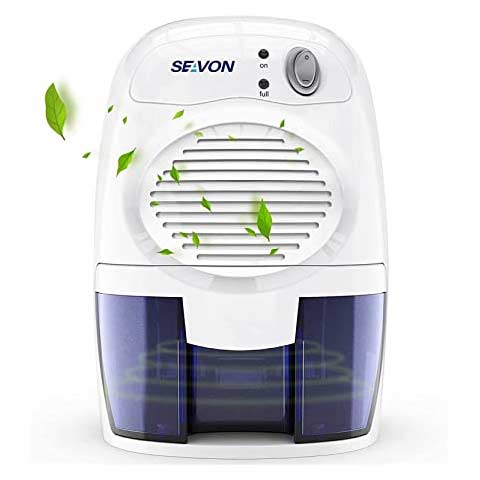 Most RV owners look for a small, portable, and at the same time stylish looking dehumidifier to deal with moisture inside the cabin. This dehumidifier offers pretty much everything that fit those requirements.
Like most portable dehumidifier on the list, this one also comes with a tank of 16 ounces capacity that can extract up to 9 ounces of water per day from a small room or space. The total capacity, extracting capability, and portability make this device very appealing to RV owners.
Living in a high humid area feels very uncomfortable. Even if you are in your luxurious RV, you cannot enjoy this luxury unless you get rid of moisture. Having a dehumidifier like this one can maximize your comfort by extracting all the moisture from the environment.
The humid environment also affects breathing, especially people with asthma and allergies. Apart from removing moisture, this device also ensures that there are no toxic, unpleasant, and unhealthy elements in the air.
Its automated system turns off the machine when the tank is full. To grab your attention, the LED of it will turn red, reminding you that it's time for emptying it. Removing and attaching the tank is relatively easy in this one; you will be able to remove and put the tank back without much effort.
You cannot allow a machine running in your bedroom and disturbing your sleep by making noise. Seavon dehumidifier operates very quietly; thanks to its thermoelectric cooling technology that ensures a quiet operation even in small rooms.
Due to its portability, you can carry it to bedrooms, kitchen, bathroom, caravan, garage, and closet effortlessly. The dehumidifier works optimally within 59o-86o F. It doesn't work when the temperature is below 41o F.
---
7. Pure Enrichment Deluxe Mini Dehumidifier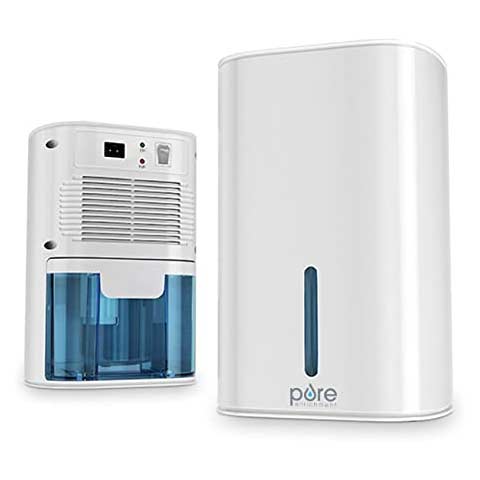 With advanced humidity control feature, this dehumidifier can extract all the moisture from your RV and also prevent mold, mildew, and other allergens to grow. You can also use it in your small to midsize room, bathroom, kitchen, closet as well.
The device fulfills the basic must-have things that you need in order to combat the moisture inside your RV. Moisture doesn't only make you feel uncomfortable; it also affects your breathing, overall health, and damages the beautiful furniture inside the RV.
So, it would be worth investing in such a dehumidifier that will make you RV living comfortable and at the same time, prevent harmful elements that can cost you much more than buying a dehumidifier.
You will notice that the air conditioner requires less time to cool the environment, which prolongs the lifespan of AC as well as saves excess electricity bills. The dehumidifier operates very silently, which is perfect for use in quiet areas such as offices and nurseries.
If you are the type of person who needs a peaceful environment while sleeping, you will find the device causing no disturbance while you sleep. This device can effectively eliminate 10 ounces of excess water per day from your indoor environment. It is a bit more than what we said on other RV dehumidifier reviews.
However, the absorption might vary depending on the weather. Cleaning the tank is relatively easy with this one. Its one-button control allows you to operate the machine even in the dark. The transparent water tank allows you to track the water level and tells you when it's time to empty the tank.
It automatically turns off when the tank is full. So, even if you are unaware or forget to empty the tank, this feature will prevent the machine from overheating and overflowing.
---
8. Afloia Portable Electric Dehumidifier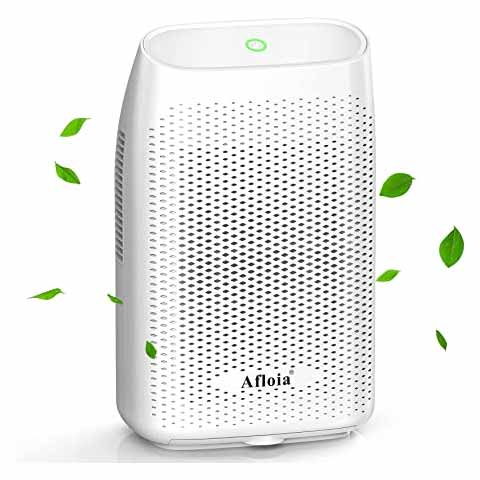 If a large capacity portable dehumidifier is what you are looking for, you can consider Afloia portable dehumidifier. The dehumidifier has a large capacity, and at the same time, it removes moisture from your place with much efficiency as well. It makes the environment moisture-free very quickly compared to conventional ones.
There will be no uncomfortable moisture issue inside the RV even if you are roaming around high humid areas. It reduces moisture damage and prolongs the lifespan of internal furniture and appliances. You and your family will live healthier RV life with this one.
The major selling point of this product is its large capacity for holding water. Also, the tank can hold up to 2 liters of water. It makes maintaining the dehumidifier a lot easier for the users. You don't need to empty the tank frequently. You can be free of worries for more than two days.
Its ability to extract moisture per day is also higher than most other dehumidifiers available on the market. This one can efficiently extract up to 750 ml of moisture per day. The amount might increase or decrease by 80 ml, depending on the weather.
So, even if you live in one of the most humid areas, this device can keep you moisture-free throughout the day without any issue.
Although this humidifier is large in terms of its capacity as well as extraction ability, it is energy efficient. It consumes much less energy compared to its competitors. With that being said, it wouldn't be too much if we address it as an environment-friendly product.
If your sleep is affected by very little noise, you will not feel any disturbance with this device. The sound this device produces is below 43 dB. Its ultra-silent operation will make sure the room is free of moisture without ruining your sleep.
To prevent the overflow of water, there is an auto shut-off sensor that automatically turns off the machine when it detects the reservoir is full. The machine resumes the operation once you empty the tank.
Considering its capacity, performance, noise level, portability, low energy consumption, and design, it might be the best RV dehumidifier for you.
---
9. Hysure Household Portable Dehumidifier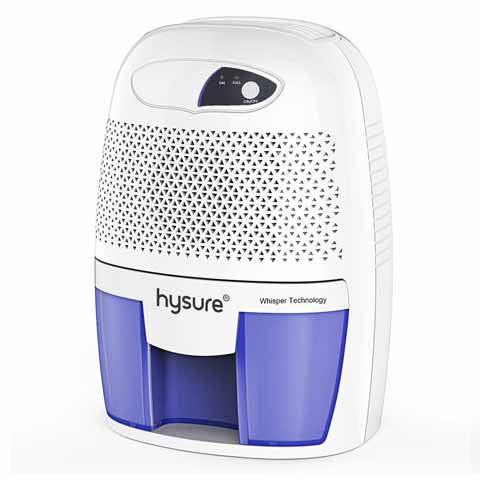 This is the quietest operating dehumidifier on the list. With its 37 dB noise production level, you can even continue your work or study in the same place where you place it. As it operates without any compressor, there will be no disturbance while you sleep whatsoever.
Humidity is something that highly affects comfort as well as temper. Even if you are in a luxurious RV and touring in high humid areas, it will surely make you feel uncomfortable. This dehumidifier from Hysure can protect you from both moisture and uncomfortable feelings.
The machine is specially designed for small spaces, RV, caravan, bedroom, bathroom, kitchen, basement to improve overall comfort and health throughout the day and night. Apart from making the place moisture-free, the device also prevents mold and mildew.
Moreover, this device can remove 250 ml of moisture per day from your place. If you place it in a small to midsize room, it will keep you moisture-free for a long time. It's recommended to use it within a space of 10 to 20 square meters. The machine performs great even at 86 degrees Fahrenheit.
It does the work of removing moisture faster than most dehumidifier within this price range. As the capacity is quite low, it might be very tough to keep eyes on it to know whether the tank is empty or not.
Thankfully, this dehumidifier automatically turns off when the tank is full and prevents overflowing of water. Furthermore, it will turn the yellow indicator on to grab your attention.
Furthermore, the dehumidifier consumes low energy, and it's an environment-friendly product as well. It doesn't produce any chemical substances while absorbing condensation and damp.
When it comes to the ease of operating the machine, its one-button-control makes it very easy to operate. As the device is compact and lightweight, you can easily carry it from one place to another without much trouble.
---
10. New And Improved Eva-Dry E-33 Renewable Mini Dehumidifier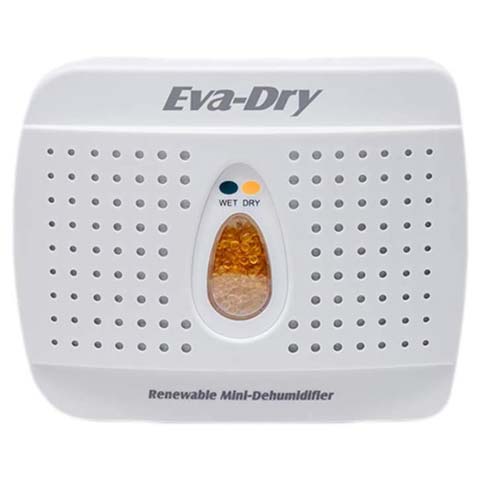 The last product on the list is quite different than other dehumidifiers that we have reviewed so far. It's a renewable mini dehumidifier. If you are new to the term "renewable dehumidifier," let us explain that first.
There is an indicator containing crystals that change its color from orange to green or green to orange. When the unit absorbs the humidity to its total capacity, the indicator window will change from orange to green; it takes roughly about two to four weeks, depending on the weather.
Once it's green, it's time to plug the device for about 8 to 10 hours in a ventilated area. After that, the indicator window will change from green to orange, and you can use it again. You can keep repeating this renewing process for up to 10 years.
This renewable dehumidifier is perfect for areas of 333 cubic feet. It doesn't require any batteries or cords when you use it for dehumidifying the air. Once you renew the device, it will last 20 to 30 days. The capacity is 4 to 6 oz depending on the condition.
Even when the capacity of this device is full, there will be no leak or spill of water at all. It works by capturing the moisture from the air and containing within the beads. The dehumidifier is 100% renewable; you don't need any expensive refills to deal with humidity in your space.
You can use this device in your RV, closet, under a kitchen sink, bathroom, caravan, boat, and more. This can be the most inexpensive and durable option to knock off moisture from your place and live comfortably up to 10 years.
---
Things to Look When Buying an Best Dehumidifier for RV
When it comes to getting a dehumidifier for your RV, there are some key things to watch out for to ensure you are investing in a good quality machine.
1. Capacity
The capacity of dehumidifiers determines what amount of water the device can hold. This is something that you must consider depending on your requirements.
If you usually go on trips for about a week or more, the suggestion would be to get a dehumidifier with a large capacity. On the other hand, if your tours usually last less than a week, then a smaller size dehumidifier will do the trick for you.
2. Ease of Installation
You shouldn't get a unit that needs a long time and effort to install. If you regularly have to carry it from one place to another, it would be a hassle to install and set up. Easy and straightforward configuration allows you to keep the space moisture-free.
3. Portability
If you want to use the dehumidifier in more than one place, for example, you want to use it when you are in RV, and for the rest of the time, you want it to combat moisture of your kitchen room; consider the portability issue as well.
Besides, if you go for frequent camping, the best RV dehumidifier would be the one offering most portability.
4. Controls
As far as the controls on a dehumidifier are concerned, the most user-friendly ones allow you to set custom humidity percentage levels offering different categories as well.
A dehumidifier with adjustable power control lets you set a timer for the machine to start and shut down when you're not around. You can switch between various modes according to the humidity level.
5. Noise
To some individuals, noise is something that concerns most people before purchasing any device. If you are one of them, be sure to get a machine that comes with noise reduction technology and runs without a compressor.
You need to check the noise production level; below 53 dB runs without making noticeable noise. Dehumidifiers with even lower noise levels will cause no issue while you sleep. If you are highly sensitive to noise, try getting a unit that produces noise around 40 dB or lower than that.
6. Dimensions
When you are about to get a dehumidifier for your RV, considering the dimensions is a must as RVs don't offer huge space like your bedroom. Acknowledge the height, width, and length of the dehumidifier and check whether the unit can fit the available space in your RV.
7. Dehumidification Performance
If you live in a high humid area, you will need a device that can extract the moisture as much as possible. However, low to mid humid areas don't require a high performing device.
You can determine the performance by considering the volume that the dehumidifier can extract from the air in 24 hours. The higher the rate, the better the performance you can expect from it. And the best RV dehumidifier will be very effective at removing moisture.
8. Coverage Area
If you don't consider the coverage area of a dehumidifier unit and randomly pick one, it's most likely that the device cannot properly remove the moisture from your RV. Know the designed size that the unit can cover and then consider whether the coverage is suitable for your needs.
Most dehumidifiers on this list can provide small to medium coverage, which is specially targeted for RVs. However, if you want to cover a larger space, then consider getting the one that provides more coverage.
9. Continuous Drainage Option
Most of the portable dehumidifiers on the list require you to empty the tank manually. If you think manually emptying the tank is a hassle, you can consider getting one that allows you to drain the water to your bathroom or sink using a drain hose attachment. This is a more convenient option.
10. Weight
People who go for RV trips frequently, they always go with lightweight appliances. This isn't an exception when it comes to choosing a dehumidifier. A lightweight dehumidifier allows you to carry more essential items in your RV.
11. Warranty
People always feel interested in getting a product that provides a smart warranty service. Most RV dehumidifier offers a limited warranty. Some manufacturer provides a replacement or money-back guarantee within a very short period.
Having a product warranty makes dealing with damaged, malfunctioned products hassle-free.
12. Extra Features
Features such as auto-shutoff, adjustable fan speed, LED indicators, humidity control, digital display, innovative design, ease of emptying, and energy-efficiency add great value to RV dehumidifiers.
Benefits of Using an RV Dehumidifier
A dehumidifier brings lots of benefits to the RV owner as well as the RV itself. Here are some primary benefits that you will get from a dehumidifier:
1. Dehumidifier Reduces Humidity That Makes Air Feel Hotter than It is
When there is moisture in the atmosphere, it feels warmer than it is. That results in a very uncomfortable feeling. So, the air conditioner has to work harder to keep the space cool. Having a dehumidifier will extract all the moisture from the air and make you feel comfortable. It also prevents the AC to consume more energy.
2. Dehumidifier Reduces Humid Air That Causes Mold Spores & Dust Mites
Dust mites and mold can easily develop in a moist environment. They contaminate and make the air damp and smell musty. It affects our breathing as well as health.
3. Dehumidifier Reduces Damp Air Which Destroys the Integrity of Furnishings
If the weather is too humid, there is a high chance of developing fungi, mold, and rot. These affect the beauty of furnishing, cabinets, and flooring by reducing their aesthetic and durability.
4. Dehumidifier Improves Air Quality That Significantly Diminishes as Relative Humidity Rises
When the humidity is relatively high within a space, the possibility of triggering allergic reaction rises to its peak. Allergens grow much faster in a moist environment. If you get a dehumidifier for your RV, it will reduce the chance of such things growing in your RV.
Types and Sizes of Dehumidifiers
There are four types of dehumidifiers available on the market –
1. Dehumidifying Ventilator
This type of device uses an exhaust fan and a sensor to extract moisture from the space. They are mostly used in basements, crawl spaces, and attics.
2. Homemade Dehumidifier
There are short-term homemade solutions for removing moisture, as well. You can use charcoal, road salt, and de-icing salt to reduce humidity or moisture from your space.
3. Heat Pump Dehumidifier
With the help of a heat pump, heat, fan, and exchange coils, heat pump dehumidifiers can eliminate moisture from a saturated atmosphere.
4. Chemical Absorbent Dehumidifier
Hydrophilic materials like silica gel also work as a desiccant humidifier. It can extract moisture from an enclosed space effectively.
RV Dehumidifier vs. Regular Dehumidifier – What's the Difference?
Even though both the dehumidifiers are very effective when it comes to control moisture and prevent mold, there are a few differences between them as well.
One of the major differences is storage capacity. RV dehumidifiers are made wide so that they can store more water. This is because an RV always is moving, so storage is something very crucial here.
On the other hand, regular dehumidifiers don't have that much storage capacity. They can be linked to a drainage system or sink to pass the water.
RV dehumidifiers are made of non-slippery materials so that the device doesn't slip while moving. You don't want your appliances flying around the cabin. But this isn't the same with regular ones.
Household dehumidifiers are more expensive and use more energy than RV ones. The initial cost of household dehumidifiers is more than what you would spend on an RV dehumidifier. They are more advanced devices.
So, if you mistakenly buy a household dehumidifier for your RV, the results will be the same; but as the device is over-equipped than what you need, it will cost you more, and you have to pay more money as utility bills.
Effects of Too Much Humidity in Your RV
If you stay careless regarding the removal of moisture from your RV, it's going to make some damaging issue and will cost expensive repairing.
1. Molds and Mildew Can Develop
One of the results of intensive moisture in a space, whether it's your bedroom, basement, kitchen, or RV, is that molds and mildew will surely grow as time passes. If it happens, the interior of your precious RV will be very much affected. The furniture will lose its beauty, and there will be an unusual smell all over the space.
2. Corrosion Can Set in
If the humidity level is high in an area, that means the level of water within the air is also high. So, when these moisture touches materials made of metal or steel, there is a high chance that those materials will be affected by corrosion.
3. It Poses Health Risk to RV Users
Living in a high humid area is very difficult. People feel very uncomfortable to live where the moisture level is high. And due to mold and mildew issues, the risk of allergen increases for those who are suffering from allergy. It becomes difficult for such individuals to breathe in a high humid atmosphere.
4. Your Furniture Can Easily Smell Musty
As mold and mildew develop due to a high level of moisture, the furniture gets affected by these dust mites. You will notice an unusual musty smell on furniture as well.
5. It Can Reduce the Lifespan of Certain Appliances
Certain appliances are instructed to keep them in a dry place. When there is too much moisture within the atmosphere, it reduces the lifespan of moisture-sensitive appliances. Some furniture cannot tolerate moisture, so a high humid atmosphere can affect the lifespan of such things.
Are the Led Replacement Bulbs for RV 921 Compatible with RV Dehumidifiers?
Yes, the top rv led replacement bulbs can be compatible with RV dehumidifiers, including the LED replacement bulbs for RV 921. These bulbs are designed to work with different RV appliances and fixtures, ensuring energy efficiency and long-lasting performance. Upgrade your RV lighting while keeping your dehumidifier running smoothly with compatible LED replacement bulbs.
5 Ways to Manage Humidity in an RV
We cannot change the weather. But we can combat the way it affects us. High humidity is something that we cannot reduce naturally. However, there are things to do to reduce its effects.
1. Use a Dehumidifier for RV
Want to know the best and easiest way to combat humidity and moisture in your RV? Get the best RV dehumidifier for your vehicle; it is as simple as that. There are various types of dehumidifiers for different RV requirements.
RV dehumidifiers are designed for working in small spaces, so you cannot expect the best results in larger spaces.
However, electric desiccant dehumidifiers can draw moisture from larger spaces. But if you want to control moisture in a small space, getting a non-electric with desiccant packets will be enough.
Compressor dehumidifiers are recommended for huge spaces. Due to the compressor, this type of device makes a loud noise.
2. Ventilate Your RV Properly
Installing vents control the moisture to some extent. You need to install these in areas that are prone to high humidity, such as bathroom and kitchen. Turn on the vents whenever you enter into such areas.
3. Cover Your RV Using an Air Vent Cover When in Storage
You can cover your RV with an air vent cover. This cover will protect the vehicle against elements and at the same time, ensure proper air circulation inside the vehicle.
4. Try to Air It out Regularly
Whenever it's possible, be sure to open the doors and windows. The natural airflow in your RV will reduce uncomfortable feeling to some extent.
Frequently Asked Questions
Below are some of the most commonly asked queries regarding dehumidifiers for RVs:
1. How does a Dehumidifier Work?
A dehumidifier extracts the moisture from the atmosphere without changing the actual temperature of that space. It results in dryness within the air, which also ensures the safety of the structure of your enclosure.
2. Do Dehumidifiers use a Lot of Energy?
Most RV dehumidifiers don't use that much energy. In our dehumidifier reviews, we reviewed some models that are energy efficient and have the energy star ratings as well.
However, compressor dehumidifiers use more energy than the ones run without a compressor.
3. Would a Dehumidifier Add Some Heat into My RV?
Dehumidifiers use a power source to operate and extract moisture from spaces. This process expels some amount of heat. But the amount isn't something that you need to be concerned about. The heat will not make you feel uncomfortable whatsoever.
4. What is a Good Humidity Level?
The comfortable and ideal humidity level for indoor ranges from 40-50% RH. During the winter season, it may reduce to 40% RH.
5. What is the Lowest Temperature Dehumidifiers can Operate in?
Some devices are designed for working in low-temperature areas. These units can operate at 60 degrees Fahrenheit or below it. Places such as basements are ideal for using such dehumidifiers.
6. How Often should I Empty the Water Tank?
It varies from model to model and their water tank capacity. Units that have small tanks and are placed in high humid areas will require to be emptied more frequently.
However, if you get a dehumidifier with a hose connection for draining the water, it will not require you to empty the tank. It is a more convenient and hassle-free option.
7. Where Else can These Models be Used?
You can use your RV dehumidifier in small and enclosed spaces such as the bathroom, kitchen, and closet.
8. Where can I Put My RV for the Best Results?
The best place to put your unit would be where there is a high level of moisture available such as a bathroom or kitchen. Be sure to keep it away from pets and children. Besides, it shouldn't be too far from the drainage system so that you don't have to walk long distances while carrying the tank to empty it.
9. How to Choose the Right Size?
It depends on the space in your RV that you want to place the dehumidifier. Take proper measurement of that space and then look for a unit that fits that measurement. If you have a large space inside the RV, you can go for a larger unit.
Conclusion:
Ladies and gentlemen, we have come to the end of this article. A recreational vehicle is where you do nearly all your ADLs when you are in the wilderness. It's where you cook, shower, eat, wash, and sleep.
Indeed, these activities will lead to vapor buildup. The vapor and the resultant condensation will lead to a stuffy trailer. This could easily cause breathing problems. It'll get worse if you are asthmatic or have any respiratory issues.
You can conveniently live a comfortable RV life if you invest in the best dehumidifier for RV. Hopefully, the information in this article will help you to find a product that works.
Also Read: