Last Updated on November 17, 2021
An RV vacation should leave you with fond memories that last a lifetime, not regret and misery at having broken the bank! But if you're not careful, you could end up doing precisely that, spending too much stuff. Here are some helpful tips for RVing on a budget. Costing does not depends on the external activities only, you must calculate the useful accessories of RV too. Or you might need buy them with high price.
How can You Do RVing on a Budget?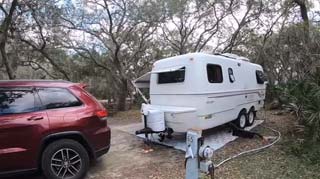 Planning the perfect budget for your RV vacation is not easy. After all, you want to have a great time with your family and friends. Expenses can really pile up if you are not watchful. Prior planning and research are essential to avoid some common pitfalls related to RV expenses.
1. Do a Lot of Research
One major expense involves the vehicle itself. Do you own an RV? Or do you plan to buy one? Maybe a rental would be a better option if this is supposed to be a one-time thing? These are important questions that can have long-term ramifications on your pocket. You will need to do thorough research on RV costs and expenditure.
Find out if owning one is viable in the long term. You will have to look at the RV cost, and this can vary depending on your space and comfort requirements. If you are a beginner, the best option might be to rent one initially to see if you like the whole experience.
You dont want to end up with buyer's regret over such an expensive investment. Go to RV websites, and dealerships in person as well, to get a clear idea of the product and its features. Find out about insurance costs as well. Sometimes, buying a pre-owned trailer might be an economical choice.
So check some classified listings as well. Your aim here is to find a middle ground regarding comfort, budget, and long-term viability. You can only make a confident decision when you have a good grasp of the market and products. And that needs in-depth research.
2. Take things into Your Own Hands
Traveling in an RV is like living in your home in many ways. You will have to perform routine maintenance and repairs. And if you depend on professionals for every little thing, your expenses could become unmanageable. So a little bit of DIY spirit can go along way in keeping your budget under control.
The owner's guide or manual is your best friend here. You can also find some great books on RV basics and repairs. The internet is also chock full of RV maintenance related content and guides. You can save a ton of cash on these DIY repairs.
Keep a close eye on your fuel consumption. Understand the engine performance and capabilities of your RV. If you can save on fuel in any way, that will lighten your expenses considerably. While planning your trips, check the fuel consumption figures.
By reducing the time you spend driving, you can easily cut down on fuel costs. Find destinations that are closer to home, preferably within your own state if possible. Campgrounds and sites have charges that can drain your budget as well. Beyond the nightly rates, you may also have to pay separately for amenities like electricity, water, sewers, and of course, the internet.
Find sites that are more affordable for your budget. You could check the Parks & Services Directory, or do an online search. Reviews will give you a great idea of these important numbers. These are just some of the main pathways that you can take to reduce your RV expenses.
With some attention to detail, you can save a lot of money. Once you get the initial investment out of the way, RVing is actually a very reasonable and inexpensive experience. You just need to know the small ways in which you can save cash.
3. Select Perfect Trip Location
One great thing about RVing is that most factors are directly in your control. So it is not that hard to find an RV trip that can fit almost any budget. Factors like RV model, rent vs. purchase, distance traveled, and campground choices can all be leveraged to your advantage. Here are the five main principles you have to keep in mind while creating your RV budget:
4. RV prices
You can get a spanking new RV for as low as $6000. On the other hand, high-end models can cost as much as $300,000. Think about the financing, if you are taking that route. Find the average cost per night in the RV of your choice by dividing your annual payments by the number of nights you plan to spend in the RV.
If this is not lower than what you would have to pay for a hotel or vacation home, you might want to reconsider your choice.
5. RV maintenance
RV annual maintenance includes winterizing, de-winterizing, and basic servicing. Check with your dealer to find the exact cost of these things. Factor these costs into the overall cost of your RV vacation.
6. Campground Costs
You can opt for national and state park campgrounds that charge as low as $20 per night or go for resorts that charge close to a hundred bucks. There are also private sites that charge you somewhere in between these two figures.
7. Driving Costs
Gas prices can be a massive headache. If you are worried about it, pay close attention to the overall weight of your rig, and the distance you plan to haul it. Buy smaller RVs and stay closer to home to reduce the costs.
8. Food costs
Sticking to your grocery budget is probably the easiest thing to do. The only unforeseen expense here would be the odd occasion when you feel like sampling some local delicacies. And this can be managed pretty easily as well. By planning these meals in advance, you can save even more money.
9. Common Self Discussion
Living on the road in an RV is a true adventure, a nomadic lifestyle you have to experience to understand truly. It can be as expensive or inexpensive as you want, which is one of the charms of RVing for many. As we have already explained, there are many avenues to explore, and many important decisions to be made before embarking on an RV trip.
You have to ask yourself some key questions during this decisionmaking process. Let's examine those in brief.
Simple 6 Questio​​​​ns to Ask Yourself
If you are not planning to travel on your own, you have to include your fellow RVers in this process as well. These are questions that you have to answer as a couple, or group, whichever is applicable in your case. The questions are:
Do you the full cash in hand for the entire trip, or do you have to work on the way?
Is this going to be a short journey with a definite finish date/destination, or is it going to be an indefinite trip?
Can you survive with modest comforts, or do you need top of the line luxuries?
What kind of campsites do you prefer: rustic and cheap, or backpacking style, or 5-star RV resorts?
Do you have a fixed itinerary with routes and specific destinations, or is it going to be a free-roaming trip?
Have a detailed conversation with your companions and ask these questions. This will go a long way in keeping things smooth for your RV trip planning and execution.
There are dirt cheap RV trailers, and there are ultra luxurious motorhomes. What you pick will depend entirely on your budget and preferences/needs or wants. If you belong that minority blessed with an unlimited budget, you don't have to worry about anything. But if you belong to the 99%, you will need to watch your budget. You don't want to end up broke halfway through your RV trip.
10. Motorhome vs. Trailer
Motorhomes are more expensive in every conceivable way. Their asking prices are much higher, and the operating costs, servicing, and maintenance expenses are all pretty steep as well. To add insult to injury, their value also depreciates faster than cheaper RVs.
Trailers are more economical to buy and operate. You can easily tow them around using your car or truck. And once at the campsite, you can unhitch them and save on gas bills as well.
A motorhome filled with expensive equipment will have significantly more maintenance costs than a basic trailer. Do not ignore this aspect when planning your RV vacation.
11. Insurance
Insuring the RV is another significant expense that you cannot afford to ignore. Check with an insurance agent before paying for that brand new trailer or motorhome to know just what exactly you are signing up for.
12. RV Budget Estimate
You should always take into account your current living costs when planning a budget for RV vacation. After all, living in an RV is like living in a home, minus the home maintenance, but with the additional cost of RV maintenance and gas bills. Compare the two to figure out if you can afford the RV expenses.
13. Jobs on the Road
In this day and age, there are several ways in which you can earn money while living in an RV. Many people do it, often using the following methods of employment.
Remote Employment
Check to see if you can work for your current employer using technologies like internet and computers. This might be an option for the more tech and internet related gigs.
Work-Camper
You can always find temporary jobs in campsites, theme parks, and national parks out there. Some other options can be found in the service, hospitality and retail sectors of the economy.
Freelancing
Online freelancing is a field with endless possibilities. Using the internet, you can engage in jobs like content writing, online tuitions, and reviews.
14. Five Ways to Save Cash on the Road
Trimming your expenses is always a sensible way to save some extra cash when on the road. If you cannot find that extra couple of hundred bucks from work, this is a tried and tested route to take while in an RV. Check out the following "austerity measures:"
Using Home Decor
Don't buy furniture and furnishing for your RV. You can always save a lot by repurposing your existing home furniture and decorations. Besides saving cash, you will also get that familiar homely feeling.
Boondocking
The practice of camping for free on empty land is called boondocking. In most instances, you can easily find open land that has been earmarked for this specific purpose. You may not find amenities like electricity, running water, and internet here. But staying in such places now and then will help you save a lot in the long run.
Eating in
Self-cooking is always the cheapest option. Even inexpensive diners cost more in the long term. Besides, cooking the food yourself is healthier and more nutritious as well.
Fixed Expenses
These include stuff like food, gas, laundry, phone and internet, personal care and beauty, RV and medical insurance, and other sundry household expenses. You can always reliably plan for these in advance.
Expenses That Vary
These are the variable expenses that can fluctuate depending on your decisions and actions during the RV trip. The following are some examples:
Tools and repairs
Fuel costs (due to changes in routes/destinations)
Memberships & camping costs
Restaurants and entertainment
Souvenirs and shopping
While it is impossible to plan in advance for these expenses, you can at least get a fair idea regarding their potential impact on your budget. Do some research on your vehicle capabilities and limitations, as well as details regarding expenses at your chosen destination and any attractions along the way.
Conclusion
Planning and budgeting a trip in detail is not a very enjoyable task for many. But it is still very crucial if you are on a tight budget. How well you manage to enjoy the RV journey depends a lot on this particular exercise. One thing is sure: you may not like it, but you will never regret preparing for RVing on a budget.