Last Updated on April 20, 2023
An RV awning can provide a great deal of coverage for picnic tables and camp chairs when it is fully opened. But how far do RV awnings extend?
It is common for RV awnings to extend from the side of the vehicle between eight and fourteen feet, though some models extend shorter or longer. This depends on the size and type of your RV awning.
According to the dimensions of your RV, these awnings can be extended further. When selecting an RV awning, you must determine how much space you have available before making your final decision. Through this article, let us explore this issue in further detail.
How Far Do RV Awnings Extend on Different RVs?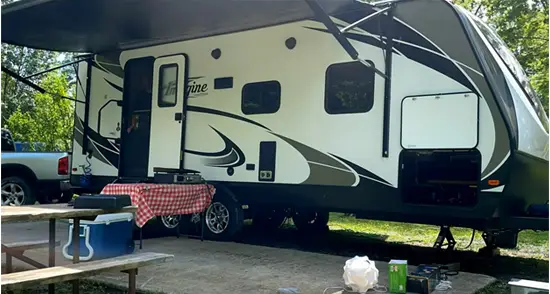 Awnings for RVs are available in different sizes and styles to suit different types of RVs. For example, pop-up campers and van conversions typically have shorter canopies that extend around three feet beyond vehicle sides.
On the other hand, fifth wheels and motorhomes often have longer canopies that can extend 8 feet to fourteen feet away from the car. Some awnings are designed to be sunshades, while others can be used as rain shelters.
A few models (such as Carefree of Colorado) offer an option to extend the length of the RV shade by attaching an inexpensive sunshade cloth (for example, an Awning Extender).
When choosing an RV tent, it is essential to consider how you'll use it and what dimensions and style will best suit your needs. If you are unsure what awning size or RV awning to choose, it is always best to consult an RV dealer or manufacturer.
Why Should RV Awnings be Extended Fully?
One of the great things about having an RV is that you can extend the canopy to create additional living space. Not only does this provide extra shade and protect against weathering, but it can also help RVs stay cooler in hot weather.
There are some other good reasons for extending your awning in full, even when you're not using it:
Extended awnings provide much-needed shade on hot summer days. Blocking out the sun can keep the RV inside cool and comfortable.
It will also protect your RV's paint job by keeping direct sunlight off the vehicle's sides.
They can help to protect against rain and wind. By keeping the RV sheltered, they can protect it from weather conditions.
Extended awnings can provide valuable security by deterring would-be thieves and vandals.
Extended awnings can give you extra privacy when parking in a public campground or RV park.
When setting up camp, it is recommended that you extend your RV shade fully. Not only will this provide you with more room, but it will additionally allow you to maintain your RV cool, protected, and private.
Considerations for Extending an RV Awning Fully
It's important to extend an RV tent fully before using it. Doing so ensures that the awning arm is adequately secured and that all the RV awning fabric is evenly supported.
Also, a fully extended RV awning can provide valuable shade and protection from the sun, wind, and rain. Start at one end and work your way down when opening the shade tent.
This will make it easier to maintain the shelter and avoid any wrinkles or creases in the fabric. You should keep in mind a few things to keep in mind when expanding an RV awning:
01. Check the Forecast the Weather:
It's always a good idea to check the forecast before extending your RV canopy fully. If high winds are expected, it's best to leave the awning partially retracted. This will help to prevent damage from wind gusts.
Additionally, if severe weather is in the forecast, it's best to take down the covering entirely. This will reduce the risk of wind, rain, or hail damage.
By taking a few minutes to check the weather forecast, you can help ensure that your camper awning stays in good condition for many seasons.
02. Ensure that No High Wind is Blowing:
When pulling a retractable RV awning out, it is imperative to ensure no strong wind blows. If the wind speed blows too hard, the tent could be damaged or even ripped from its moorings. In addition, high winds can cause objects to blow around, damaging the structure or injuring people nearby.
For these reasons, you should always monitor the weather before extending an RV shade. If there is a chance of high winds, it is best to wait for another day. Taking this simple precaution makes your RV awning likely last a long time.
03. Be Alert to Your Surroundings:
As you extend the awning, you must be aware of your surroundings. Check that there are no overhead power lines or other obstructions that may damage the top. Ensure that no low-hanging branches or other obstacles could damage the structure.
Don't forget to consider the wind strength and direction. A sudden wind can cause the cover to collapse, so extending it slowly and carefully is necessary. Check for debris or other objects that could get caught in the awning mechanism.
04. Secure the Awning With Straps:
Most RV awnings have integrated straps that help secure the material when fully extended. However, it is advisable to double-check that the straps are in place before using the shelter. It will prevent the top from being damaged by wind or rain.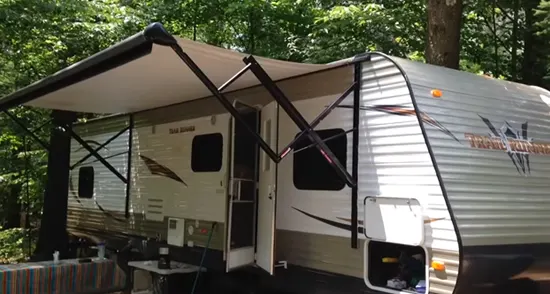 In addition, it is crucial to ensure your belts are not too tight. If they are too tight, they may put unnecessary stress on the awning and cause it to tear. You can also use external tie-downs or de-flapper straps for added security.
These straps help keep the acrylic awning fabric from flapping in the wind and causing damage. When securing the straps, it is also essential to avoid sharp edges that would damage the awning's fabric.
05. Keep Your RV Area Clear of Obstructions:
The area surrounding your RV should be free of obstructions when your best RV awning is fully extended. The shade will be able to unfold without hitting anything and also eliminates any damage to the awning itself.
Canopies should be retracted only if there are no trees or other objects near the RV. Also, ensure that the ground is level before extending the shelter. An uneven ground may cause the canopy to sag or even collapse.
06. Supervise the Awning at All Times:
When the shelter fully extends, it needs to be monitored at all times. This is because it can be affected by wind or other weather conditions. Additionally, the covering can also be harmed by insects or animals.
If you are not there to supervise the shelter, you may be unable to prevent these problems from occurring. Therefore, you must always supervise the awning when it is extended.
FAQs
Here are some frequently asked questions about this topic of RV awning:
Q: Are All RV Awnings the Same Length When Fully Extended?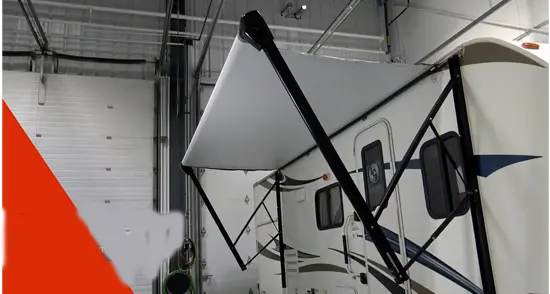 RV awnings vary in size, and the length can vary depending on the model. They are sometimes designed to be extended fully, while others are only partially. The fully extended length is usually between 8 and 10 feet, but it can be more or less depending on the size of the RV.
Awnings can be used only when the RV is parked, and these have a shorter length. All RV awnings might have a different length when they're fully opened.
Q: Should I Extend My RV Awning If It Is Raining?
Many RVers have a tough time deciding whether or not to extend their awnings when it starts raining. It depends on the severity of the weather.
If it is simply raining, then opening the shelter is probably fine. However, if there is high wind or thunderstorms in the forecast, it is perhaps advisable to retract the shade retracted.
Q: Will My RV Awning Is Damaged After Fully Extending?
Absolutely not; most awnings are designed to be used while fully extended. The retractable awning fabric is made of durable materials that withstand high winds and heavy rains.
The awning frame is also designed to resist corrosion and bending. Additionally, the awning comes with an adjustable toggle that allows you to tighten or loosen the canopy as needed.
Q: How Long Can I Leave My RV Awning Extended?
You can leave your RV awning extended for as long as you like, provided that you take the necessary precautions to ensure that it doesn't cause any damage.
Extended tops can strain the fabric and support poles, so it's essential to ensure that everything is in good condition before leaving it extended for an extended period. Additionally, you'll want your awning to be securely anchored so it doesn't blow away in high winds.
Conclusion
As anyone who has ever been on a camping trip knows, awnings can be a lifesaver. Not only do they provide shade and shelter from the sun, but they can also help to keep your RV cool in hot weather.
A fully extended awning can also provide a place to hang out at night or in the event of bad weather. If you're not sure how far your RV's awning extends, it's always best to check with the manufacturer.
Also, No matter how far your awning extends, be sure to supervise it at all times while fully extended to prevent any damage. We hope this article helped you understand more about RV awnings and how to use them safely.