Last Updated on May 4, 2023
Camping under the stars or gazing at the magnificent stars can prove to be a memorable experience for any adventurer. Yet there is a question:
Can you sleep in a caravan awning at night? Most people mistakenly believe that they cannot sleep under awnings in their caravans. A caravan awning offers shelter and comfort while camping & exploring the outdoors at night.
But it is vital to pitch the caravan awning in a level location. A level area of ground will help to place bedding inside the awning evenly. Also, the ground should be dry so moisture won't seep into the sleeping area and make it soggy.
Although some people may feel that sleeping under an awning is risky, following a couple of simple guidelines and gathering some extra tools will allow you to sleep peacefully at night. To help you make an informed decision about this topic, let's discuss it in more detail below.
Equipment You Will Need to Sleep Under A Caravan Awning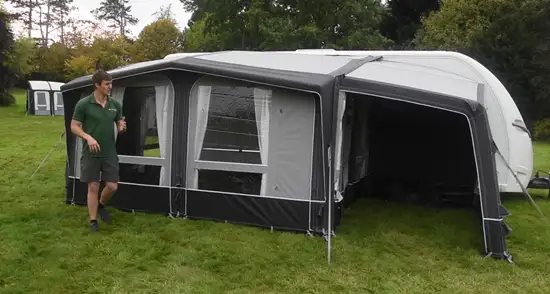 If you're planning on traveling in a caravan, you'll want to be prepared to set up camp in various places. One thing that you should consider is how you're going to sleep.
Many people choose to sleep underneath the caravan awning. This can be a great option as it allows you to enjoy the outdoor revolution while protecting yourself from the weather.
There are some pieces of equipment that one must take before you set up camp under your shelter:
Awning sidewall for better Safety
Breathable groundsheets or Carpets
Sleeping bag or mattress
Blanket for extra protection against cold
Mosquito Nets for additional safety
Pillows to sleep well
Awning lights
Can You Sleep in a Caravan Awning : Only 7 Steps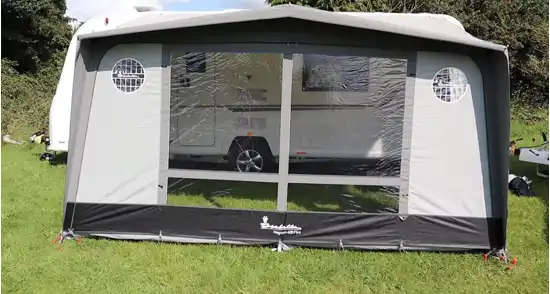 A caravan shade is a great way to add extra living space and privacy to your camping experience. The answer is yes. Simple steps can create a cozy sleeping area in your awning, including:
Step 01. Securely Anchored to the Ground
Good anchoring is the key to a comfortable and safe night's sleep in a caravan tent. Ideally, the shelter should be fastened with at least four pegs, preferably six.
The pegs should be driven into the ground at an angle of 45 degrees using a mallet or hammer. The guy lines should be positioned, so they are taut when the awning is fully extended.
In windy conditions, increasing the number of pegs or using heavier-duty pegs may be necessary. Using brackets or straps, it is also essential to check that the canopy is firmly attached to the camper van.
Step 02. Clean the Ground Under Awning
Any experienced caravanner will tell you that one of the most important things to do when setting up camp is to ensure the ground is clean. After all, no one wants to spend their holiday sleeping on a patch of dirt.
The easiest way to maintain a clean sleeping area is to sweep the ground beneath your cover before setting up your bedroll. Any glass, nails, or other sharp objects could cause holes or damage to the materials.
This will help remove any debris that might have blown underneath the awning and give you a chance to check for any potential hazards, such as sharp stones or broken glass. Once you're satisfied that the ground is clean, you can set up your bedroll and get ready for a comfortable sleep.
Step 03. Mount Your Awning Sidewall
When sleeping in your caravan awnings, be sure to attach the tent sidewalls. This will protect you from the climate and give you some privacy. To do this, first, locate the two mounting brackets on the enclosure.
These will be at the top of the canopy, on either side. Next, take your sidewall and find the two loops at the top. Line them up with the brackets. Once you find the loops, insert them into the brackets and pull tight.
This will secure the sidewall to the structure and assure that it does not blow away in windy conditions. Finally, zip up the sidewall to seal out any draughts.
Step 04. Lay a Groundsheet or Breathable Carpet
You must take safeguards to prevent contact with bugs, pests, or other harmful animals. One way to do this is to spread a breathable floor covering before preparing an area.
This will help prevent moisture and dirt from coming into contact with your bedding and provide an extra layer of insulation. Also, it is a good idea to prepare a few pillows and blankets to keep you comfortable throughout the night.
Step 05. Place Your Sleeping Bag or Mattress
The most crucial factor to consider when considering a night spent underneath an inflatable awning is comfort. So make sure to bring along a camping mattress or some other comfortable sleeping surface.
Also, the ground can be complicated and uncomfortable, and you don't want to wake up with a sore back. A sleeping bag or mattress will provide a much more comfortable sleep than simply trying to sleep on the bare ground.
It will help you avoid insects and other pests lurking in the grass. Sleeping bags or mattresses should be placed on the floor of the awning. If you're using a mattress, make sure it's inflated before bed.
You can also put your pillows at the head of the mattress to allow you to sit up and read or use your phone before bed. Verify all your blankets and sleeping bags are zipped up, so you don't get cold at night.
Step 06. Hang a Mosquito Nets (If Needed)
When traveling in areas where mosquitoes are prevalent, it is crucial to take steps to protect yourself from bites. If you want to prevent mosquitoes from biting you, hang a mosquito net when sleeping in a drive away awning.
A mosquito net will provide a barrier between you and the mosquitoes, preventing them from accessing your skin. It is also prudent to use insect repellent outside and wear long sleeves and pants to avoid exposing the skin.
Taking these precautions can reduce your risk of being bitten by mosquitoes and contracting any diseases they may carry.
Step 07. Pack Away All Your Belongings Before Sleep
To guarantee everyone has a good night's sleep when staying in an RV awning, it is essential to pack up all the items when going to bed.
This includes putting away any food that might attract animals, sharp objects or items that could be a tripping hazard or any loose objects that might be blown around by the wind.
If you have young children, make certain there are no small items within reach that they could put in their mouths. Make sure to close all the doors and windows so that you can have a good night's sleep.
By taking these simple steps, you can assure that you'll wake up well-rested and ready to enjoy another day of caravanning. It is always a good idea that if you have any electronics with you, charge them before you go to bed.
So you don't have to worry about them running out of battery in the middle of the night. By following these simple tips, you can rest assured that you'll have a comfortable place to sleep when camping in a camper van awning.
FAQs
Let's take a look at some frequently asked questions about sleeping in a caravan awning:
Q: Is it Safe to Sleep in a Caravan Awning?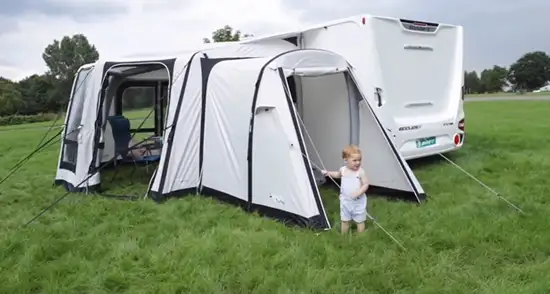 Yes, sleeping in a campervan awning is safe. Caravan shelters are just as secure as regular tents, providing just as much protection against the weather.
So a motorhome shelter is an ideal option if you're looking for a place to sleep that's sheltered from the wind and rain. Make sure you pitch it correctly and use all the proper guy ropes and pegs to keep it secure.
Q: Can You Sleep in a Caravan Porch Awning?
Yes, you can. People do it every year. It's not the most comfortable sleep, but it's doable. The main thing to keep in mind is that you need to ensure your shade structure is waterproof and that you have enough insulation if it's cold outside.
You'll also want to check that no wind or rain comes in through the opening. If there is, you'll likely get wet and/or cold during the night.
Q: Do You Need an Inner Tent When Sleeping Under a Caravan Tent?
It ultimately depends on personal preference. Many people prefer that an inner tent offers a cozier and more protected sleeping environment, while others are perfectly comfortable sleeping without one.
If you are planning to do extensive camping in your camper awning, it might be worth considering investing in an interior tent to make your sleep setup more comfortable.
Q: Is it Legal to Sleep Under an Awning in a Caravan?
It depends on your local laws and regulations. In some places, sleeping under an awning is illegal because it is considered an unauthorized structure. It may be legal in other areas as long as you are not trespassing on private property.
It's always best to check with your local authorities to determine the rules in your area.
Q: Can You Use a Caravan Awning in Winter for Sleep?
The answer may vary depending on what time of year it is and where you are in the state or country. In general, camper awnings provide a lot of shade during the day and can help keep temperatures down in the evening.
Some people find them a bit too warm for sleep, but that relies on personal preferences and how hot it gets at night. If you're worried about being too warm, you can always get a quilt or blanket to sleep with.
Conclusion
As you know, it is possible to sleep inside a caravan awning. Sleeping in a caravan tent is a viable option, especially if you take the necessary precautions to keep yourself safe and comfortable. If possible, set up your sleeping space near the awning entrance so you can quickly get out if necessary.
Bring some comfortable bedding and portable lighting, and you should be all set for a good night's sleep in your caravan awning. By following the simple tips we've outlined in this article on can you sleep in a caravan awning, you can make sure that you have a good night's sleep no matter where you are.