Last Updated on April 5, 2023
A caravan awning provides additional living space and storage while still providing some protection from unwanted weather conditions. It is more affordable than other types of awnings and can be used for a variety of purposes, such as cooking, eating, and relaxing.
Because of this, many people want to use it on their motorhome as well. But can you use a caravan awning on a motorhome? The answer depends on the type of vehicle you have.
If you have a van conversion RV or a campervan, then the answer is yes. It isn't possible for a coach-built motorhome. Here we will discuss how you can adjust this retractable awning on a motorhome, as well as an alternative.
Can You Use a Caravan Awning on a Motorhome?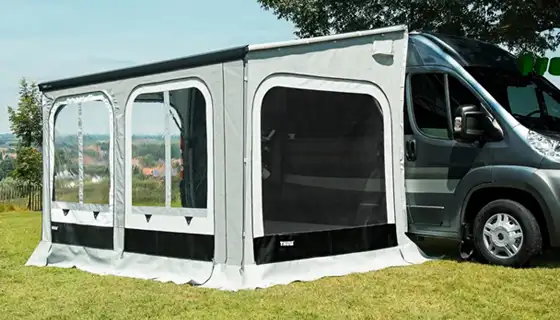 Caravan awnings can be used as an extension of your living space, providing additional room for dining, entertaining, or just relaxing. If you're looking for a simple way to enjoy the outdoors with a motorhome, you might wonder if you can mount a caravan awning on your vehicle.
The answer to this question will vary according to the motorhome that you have. With a van conversion motorhome, then you can use a roof-mounted caravan awning with your vehicle. First, you need to make sure that the shade is the right size for your vehicle.
Second, you need to take into account the fact that motorhomes are taller than caravans, so you may need to use longer pegs or guy ropes to secure the RV awning.
Finally, it's worth bearing in mind that some motorhomes have curved walls, which can make it more difficult to get a good seal between the shade and the vehicle.
A coach built motorhome does not have the same height of attachment points (C rail or J rail) that are necessary for using it. These RVs are not able to use it. The only way to use a shade with one of these types of motorhomes is to get a drive-away awning.
How to Attach a Caravan Awning on a Motorhome?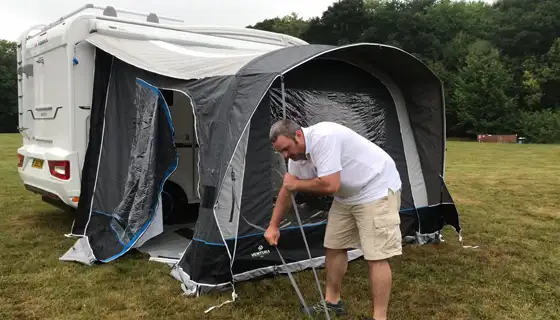 As any seasoned traveler knows, a good awning can make all the difference in enjoying your time on the open road. They provide shade and weather protection and can transform a bland campsite into a comfortable home away from home.
If you're new to the world of motorhomes, you may wonder about setting up a caravan awning. Here's a quick step-by-step guide:
Step 01. Park the Motorhome in a Level Area:
It can be tricky, especially if you're trying to level it on an uneven surface. Find a level spot to park the vehicle. Use the side stabilizer jacks to help keep the motorhome from rocking. If your motorhome is unlevel, you can't calculate the RV awning size.
Step 02. Attaching the Awning Rail:
Most caravans will have pre-drilled holes for attaching the awning rail to the camper van, but if not, you will need to drill your own. Afterward, line up them and secure them in place with bolts or screws. If you are using bolts, be sure to use washers to prevent them from pulling through the holes.
Step 03. Unroll the Retractable Awning:
You need to unroll it and place it against the side of the vehicle. Make sure that the cover is fully extended and that the awning fabric is flat. You will need to find the fabric attachment points on your motorhome.
These will be D-rings, loops, or other similar devices. Once you've found them, line up the shade so that the attachment points on the caravan awning line up with the ones on the motorhome. Secure it with screws or bolts, and then check that everything is tight.
Step 04. Securing the Awning:
Insert the caravan awning rod into the bracket and tighten the clamp to secure it in place. Drive the stakes into the ground at the corners of the awning canopy, and then use guy ropes or pegs to secure them to the stakes. Ensure everything is fastened and secure and will not flap in the strong wind.
Can You Use a Wall Mounted Caravan Awning on a Motorhome?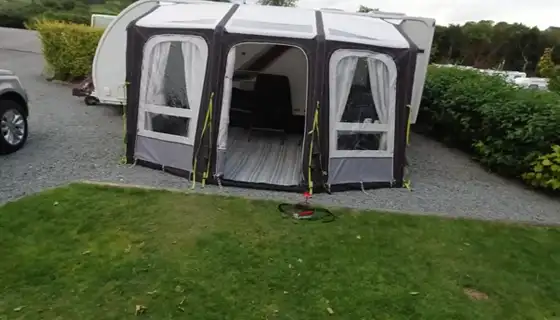 You cannot use a wall mounted awning on a motorhome because the two types of vehicles have different towing specifications. They are not designed to be used with motorhomes.
When you understand the difference between a wall mounted caravan awning and a driveaway air awning, it's easy to see why the first option isn't a viable choice for use with a motorhome. Here are the key points to remember:
01. Can Stand without a Vehicle:
It can be used with no vehicle. They are usually made from canvas or nylon and can be freestanding or attached to the side of the caravan. This means that it can be set up on a campsite or on any level surface. You can also tie it to your car so it will stay on during high winds.
02. No Need to Remove the Awning when Moving:
You don't need to remove it when you move on to your next destination. There is no need to take them down and put them back up every time you stop. This means one less job to do when trying to enjoy your holiday.
You can leave the patio awning up in all weathers, providing you with a safe and relaxing environment, even if the weather takes a turn for the worse.
03. Stands like Tents and Can be Left at the Campsite:
They can be used as a tent, with the ability to zip up the sides and create a completely enclosed space. This is great for keeping out insects, wind, and rain. They can be left up at the campsite even when you're not using them.
04. C Rail of the Motorhome is Higher:
The c rail is the horizontal bar that runs along the top edge of the caravan or camper trailer. With it being so much higher on a motorhome, the fabric of the awning cannot reach ground level, leaving you with incomplete coverage. The weight of the RV itself can cause it to stretch and sag, making it even harder to achieve a tight seal.
05. Drive-Away air awning is not Portable:
A driveaway awning is attached to the motorhome at one point and then rolled out to the side. It cannot remain on the campsite, as it needs to be taken down each time you leave. During use, it is sealed to the chassis, providing a tight seal that keeps out rain and wind.
For these reasons, it's not recommended to use it with a motorhome. If you attempt to use it with your RV, you risk damaging the camper awning, the vehicle, or both.
An inflatable driveaway awning can provide the same benefits as a canopy but is specifically designed for motorhomes.
Why Use a Driveaway Air Awning Instead of a Caravan One?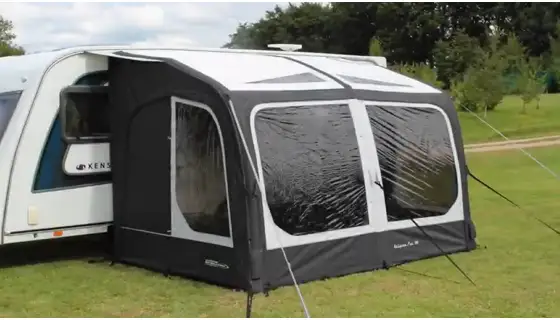 Inflatable driveaway awnings are a popular choice for camping and caravanning as they can be erected without the aid of poles. They provide the structural frame of the structure, with the fabric being mounted onto it.
The tubes are filled with air, which pressures up to a certain level. It causes the fabric to become rigid, providing a sturdy and waterproof structure. Here is a more detailed look at the benefits of using a driveaway air awning:
01. Easy to Setup:
The inflatable driveaway air awning eliminates the need to spend hours setting up camp. It inflates in just minutes, thanks to the built-in electric pump. You don't need help from anyone else to get it set up, which is ideal if you're traveling solo.
It's unnecessary to affix any support to the canvas fabric or to thread the poles through it. Simply stake it down, and you're ready to enjoy your time outdoors. When not in use, it can be quickly deflated and stored.
02. Deals Better in Bad Weather:
An inflatable awning is much better suited for dealing with bad weather. Because it's made of air-tight materials, it's less likely to be damaged by wind and rain. The inflation process helps to stabilize it, making it less likely to blow away in powerful gusts of wind. It also helps to regulate temperature and keep insects at bay.
03. Everything is Included:
The RV awning comes with everything you need, including an air pump, pegs, and guy lines. The poles are made from durable aluminum, and the canopy is made from water-resistant fabric.
It also features a mosquito net, so you can enjoy the outdoors without worrying about pesky bugs. With its convenient storage, you can easily take it with you on your next camping trip.
FAQs:
Q: Can You Put an Air Awning on a Motorhome?
Yes, you can install an inflatable awning on a motorhome. It must be properly secured to the vehicle. Be sure to inflate the cover evenly, so that it doesn't become unbalanced and blow away in strong winds.
Use caution when retracting the cover, as there is potential for the fabric to wrap around the motorhome's antennae or other objects.
Q: Do Motorhomes have Awning Rails?
Motorhomes come in all shapes and sizes, and they are equipped with a variety of features to suit the needs of their owners. Some vehicles have awning rails, while others do not.
If yours does not, you can easily install a "C" or "J" rail. They are typically found on the side of the motorhome, and they provide a place to attach the shade.
Q: Do You Need an Awning on a Motorhome?
Awnings are one of the most useful items on motorhomes and for good reason. If you like to spend time outdoors, it can provide a comfortable place to relax or entertain guests.
You can use this canopy to protect your investment from severe weather. Deciding whether you need the canopy, really comes down to preference.
Q: Can You Sleep in Drive Away Awning?
The simple answer is yes, you can sleep in it. They usually have flooring, which is comfortable for resting on. These patio awnings typically have walls or sides that can offer privacy and protection from the elements. Insulation helps to keep you warm on colder nights.
Q: How Heavy is a Motorhome Awning?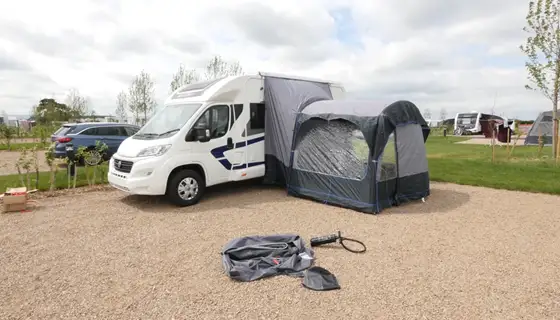 The weight of a motorhome awning will depend on its size and material. A small one made of lightweight fabric may only weigh 44 pounds (20 kg), while a large one made of heavier material could weigh 77 pounds (35 kg) or more. To get an accurate estimate of your canopy, it's best to consult the manufacturer's specifications.
Conclusion:
A caravan awning can be used on a motorhome as long as it is the right size and properly secured. Check that it is properly installed and that all the seals are intact to prevent any water or wind damage.
Keep in mind that awnings can be dangerous if they are not properly secured. Now that you know the answer to the question, "can you use a caravan awning on a motorhome?" Ready to enjoy all the benefits that the shade can provide.
Be sure to practice setting up and taking down your canopy before you hit the road so that you can be confident in your abilities when you get to your campsite.